nakedknit
Regular price
Sale price
$6.00 USD
Unit price
per
Sale
Sold out
The Ribbed Hipsters are our very first hipsters.
They are created with a wish to give you a soft and warm feeling of comfort. This comfort is underlined by the fact that The Ribbed Hipsters are knitted based on your own measurements.
The Ribbed Hipsters have the characteristic 3/2 rib knit pattern, just like The Ribbed Bra, that follows the shape of your body. This also gives a beautiful, visual effect.

The Ribbed Hipsters are knitted from the top down. The Ribbed Hipsters are knitted in the round across your waist and hip area while simultaneously knitting increases on each side. Following this, the sts for the back piece are places to rest while the front piece is knitted back and forth. To finish, the back piece is knitted separately, back and forth, until the front and back piece have a suitable length and meet between the legs. 
Yarn
The estimated amount of yarn is indicated based on the panty sizes XS (S) M (L) XL (XXL) XXXL.

The amount of yarn is also dependent on how high you want the hipsters to sit on your hips. That's why the amount of yarn is written with a reservation for fluctuation. Our recommendation will always be that it's better to buy one skein of yarn too much, rather than one too little. That way, you can make sure the color of the yarn is from the same batch. Most places will allow you to return unopened skeins.

Estimated amount of yarn (XS (S) M (L) XL (XXL) XXXL)
nakedknit Cashmere 170: 50 (75g) 100g (100g) 125g (125g) 150g
Weight / length: 170m/25g

or

Lang Yarns Cashmere Lace: 50 (75g) 100g (100g) 125g (125g) 150g
Weight / length: 165m/25g

The tension on a 2,5 mm needle in the /3 k, 2 p/-rib knit pattern = 10 cm x 10 cm =38 sts x 42 n

Knitting needles and accessories

1 circular needle 2,5 mm, 40 cm
1 circular needle 2 mm, 40 cm
2 small stitch holder cords
Alternatively, you can use a thick strand of yarn in a contrasting color
1 measuring tape
1 scissors
1 blunt needle to secure loose ends and attach the elastics
A 0,5 cm pant elastic
1 small safety pin
Needle and thread to sew the elastic together
Share
View full details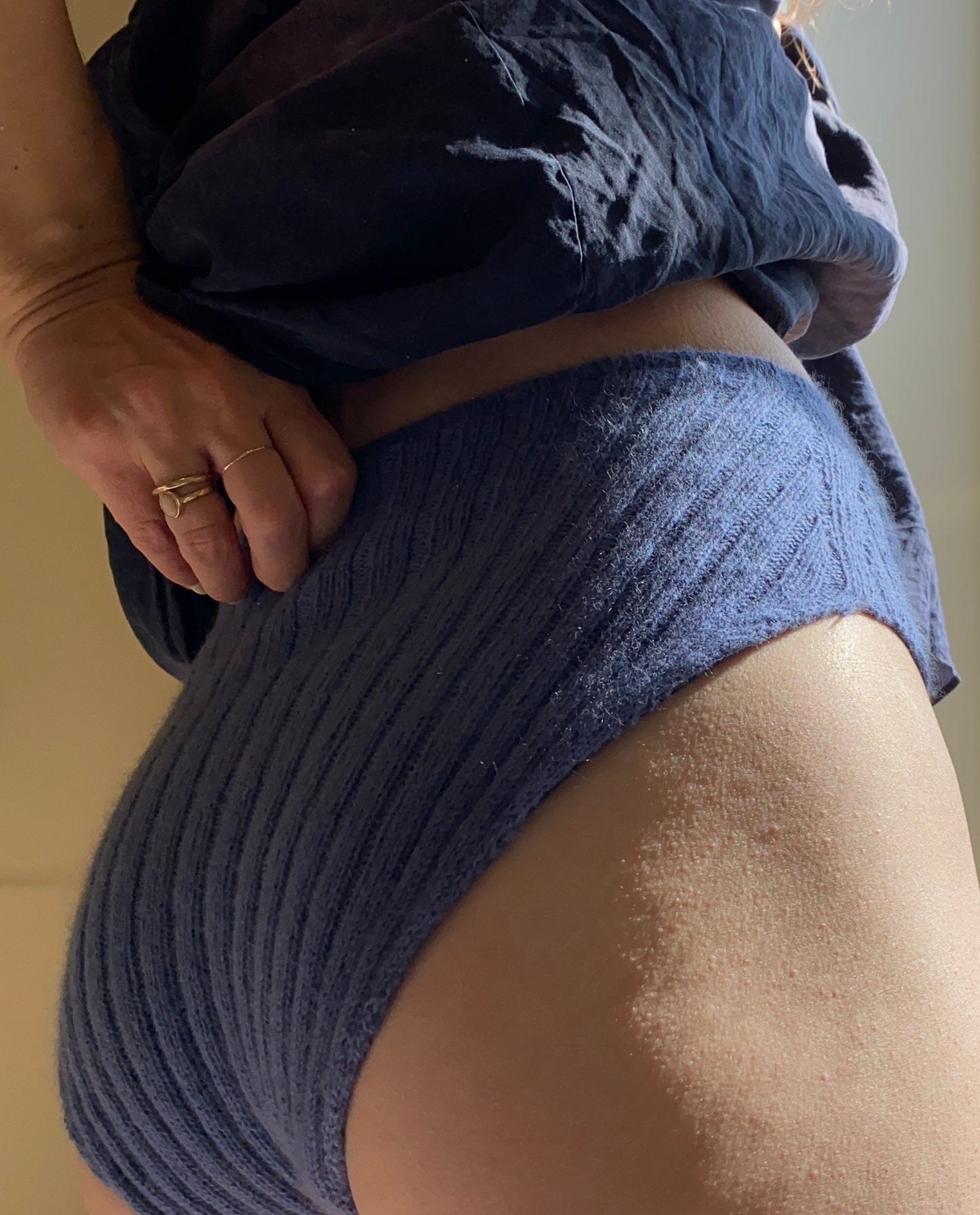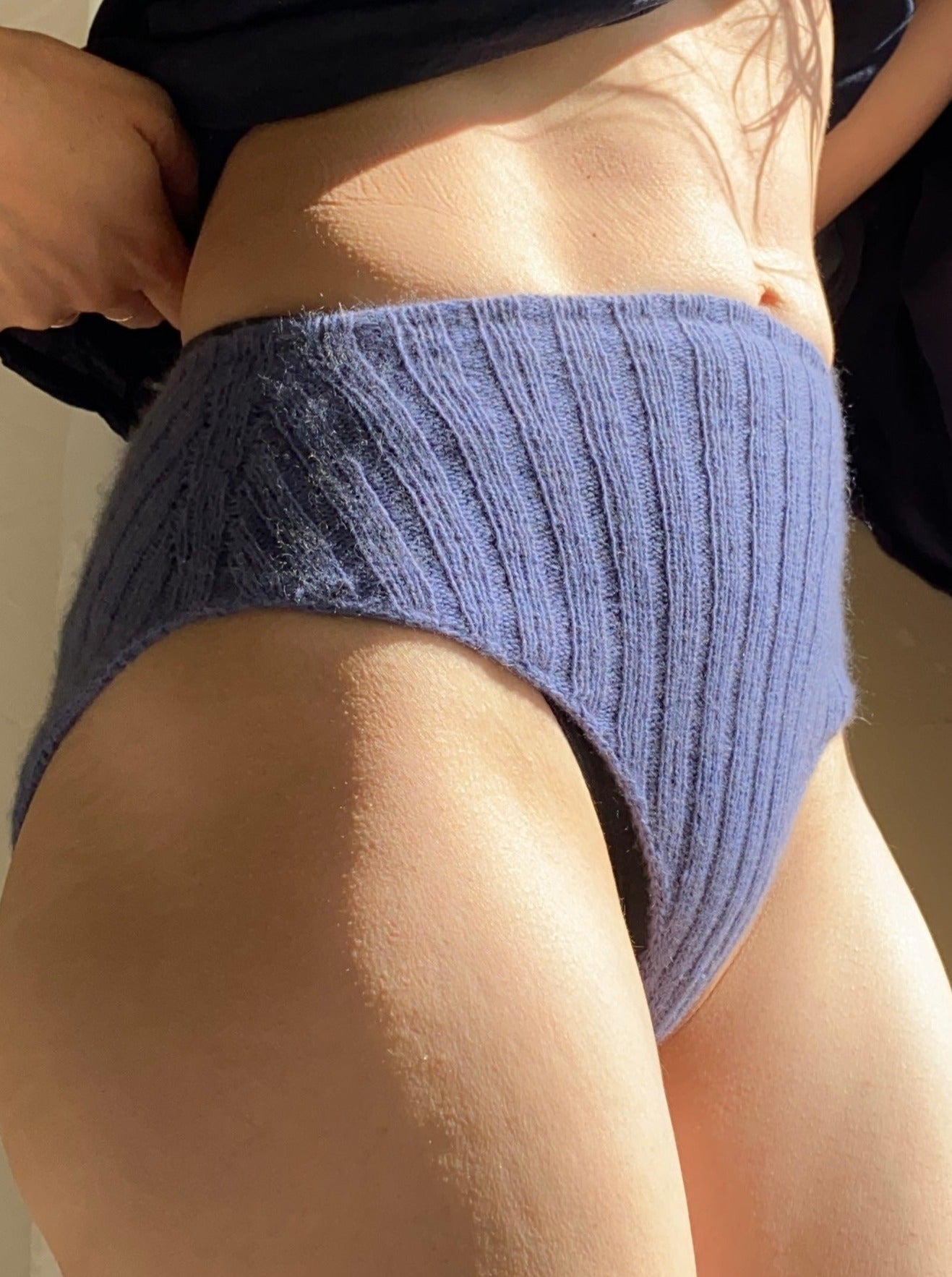 Frequently asked questions
How does the individual sizing work?

This differs from pattern to pattern, but oftentimes we ask you to measure underneath your bust and across your bust. Then we offer a calculation based on the knitting tension and this in turn tells you e.g. how many stitches you should cast on for your band. 

Other times, it's measuring the cups to your body and stopping when you feel they give the coverage you prefer. For some of our patterns we have created an Excel sheet where you simply type in your measurements and it provides you with the amount of stitches, cast-ons ect. Going forward we will optimise this and add it to more patterns. 
How much support do your bras give?

The bras give the same support as a soft, wireless bra. However there are no strap adjustments in the patterns yet, so we generally recommend you knit the straps 5-10 cm shorter than you normally would, so they can ease.
Can I knit in other types of yarn than cashmere?

Of course you can! 

We recommend cashmere because while researching many different yarn types, cashmere was the yarn that was the softest against the skin for the longest duration of time. Also cashmere on small needles tends to give a more tight knitted, elegant look, that we feel are perfect for our designs.But as long as you match the knitting tension to whatever yarn you are using, you can use whatever yarn you want. 
Do you have video tutorials for your patterns?

We share tutorials in our Instagram highlights and we have started a YouTube channel, where going forward will share a lot more tutorials and tips to your patterns. If you have any suggestions or wishes for methods or specific patterns we should do a tutorial for, please let us now atsupport@nakedknit.com