nakedknit
Regular price
Sale price
$7.00 USD
Unit price
per
Sale
Sold out
The Knot Top är en simpel topp som knyts omkring bysten eller överkroppen. Tanken var att skapa en topp som kan användas på många olika sätt – beroende på lust, styling, temperatur och funktion. 
Det är därför idéen att en ska kunna knyta toppen både fram och bak, vändas med både rät- eller avigsidan utåt, vridas, knytas och stylas på ännu fler sätt. 
Toppen stickas i sidled och precis i den höjd och längd som du själv önskar. Drömmer du om en liten bikiniliknande topp så kan den stickas smalare över själva bröstet. Ser du å andra sidan framför dig en mer täckande topp, med en distinkt och karaktäristisk knut, så stickas toppen extra lång. 
The Knot Top är en nybörjarvänlig topp med tanke på att den stickas på stickor 3,5, inte har någon montering och dessutom stickas utifrån en enkel och systematisk konstruktion.
Stickor och tillbehör
Jumper- eller rundstickor strl. 3.5 

En tapisserienål till att fästa ändar

Ett måttband
Garn
nakedknit cashmere 112 (112m/25g)
 
Eller


Lang Yarn Cashmere Premium (115 m/25g)
Stickfasthet
22m/10 cm i slätstickning på stickor 3,5mm. 
Storlekar
The Knot Top stickas utifrån dina egna mått, genom att toppen stickas i ett enda stycke – från en trekantig spets som sedan utvidgas så brett som du vill ha det. Därefter stickas stycket så långt som du önskar det för att sedan avslutas med ännu en trekantig spets. Men med hänsyn till uppskattad garnmängd kommer här en överblick över den mängd garn som behövs. 
Den förväntade mängden garn är uträknad med utgångspunkt i en genomsnittlig överkroppsstorlek. Här beskrivet som; strl. S (ca. 70–75 cm omkring magen), strl. M (ca 76–84 omkring magen), strl. L (ca 85–95 cm omkring magen), strl XL (ca 96-107 cm omkring magen), strl XXL (ca 108-120 cm omkring magen). 
Utöver det så beror garnmängden på om du vill sticka toppen i en längd där den "fina" (kan som sagt vara både rät- och avig beroende på tycke och smak) sidan täcker framsidan på din överkropp (mätt från armhåla till armhåla) eller om den ska gå ett helt varv runt överkroppen (se bildexempel nedanför). De viktexemplen vid varje storlek nedanför är alltså med utgångspunkt i att toppens "fina" stycke utgör ett helt eller halvt varv runt överkroppen: 
S= ca. 100g eller 125-150g 
M= ca. 125 eller 175g 
L= ca. 150g eller 200-225g
XL= ca. 175g eller 225-250g
XXL= ca. 200g eller 275-300g
Eftersom toppen stickas utifrån dina egna så är beror garnmängden på din längd och höjd på toppen. Vår rekommendation är att hellre köpa 1–2 nystan för mycket än för lite. Då är du också säker på att varje nystan kommer från samma färgbad. De flesta garnåterförsäljare tar också oöppnade nystan i retur. 
OBS! Cashmere är otroligt mjukt och skönt mot huden. Därför är det vår varmaste rekommendation att den här garnanvisningen följs. Det kan nämligen inte garanteras att toppen inte kliar mot huden, om man skulle sticka med andra garntyper. 
Share
View full details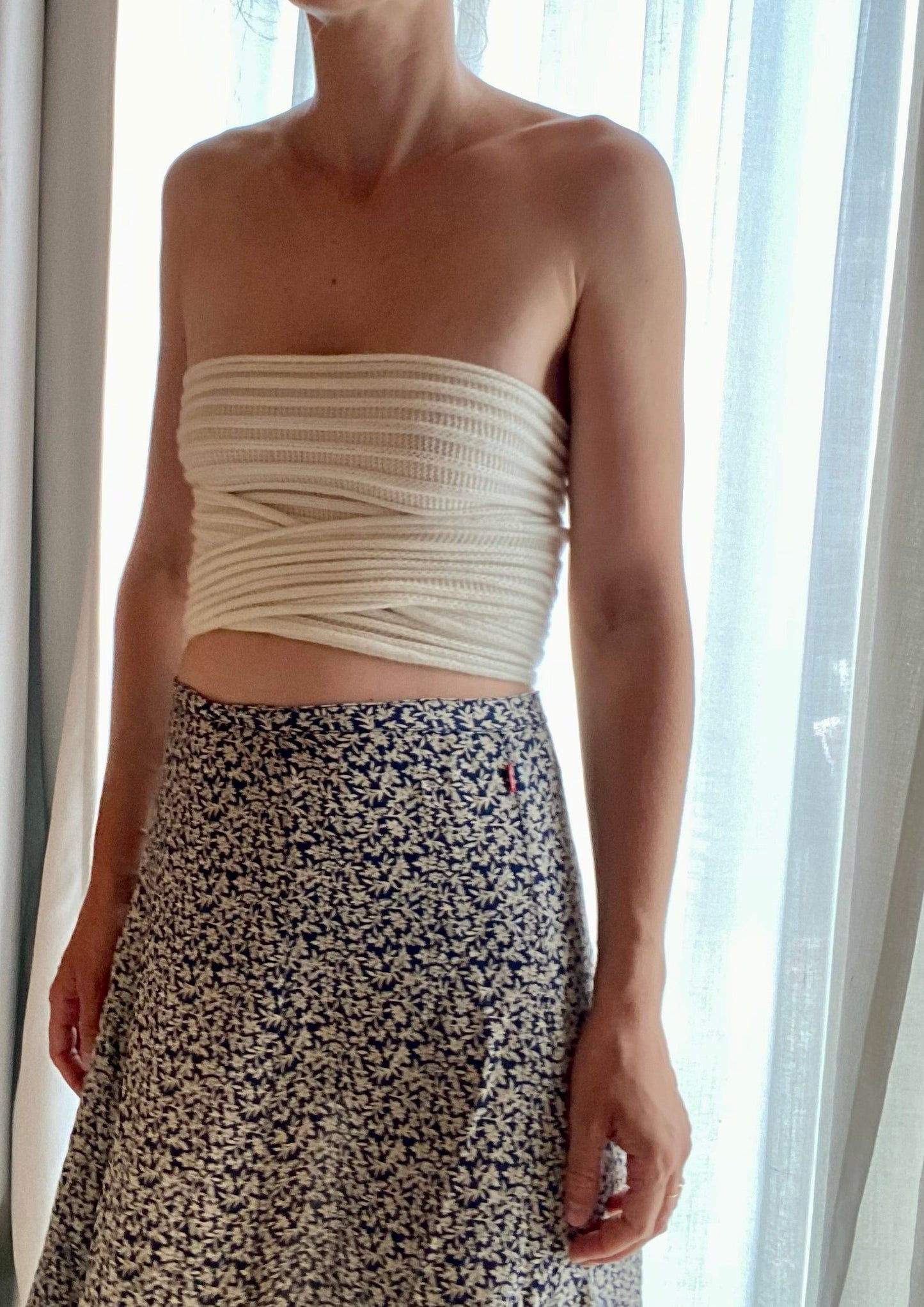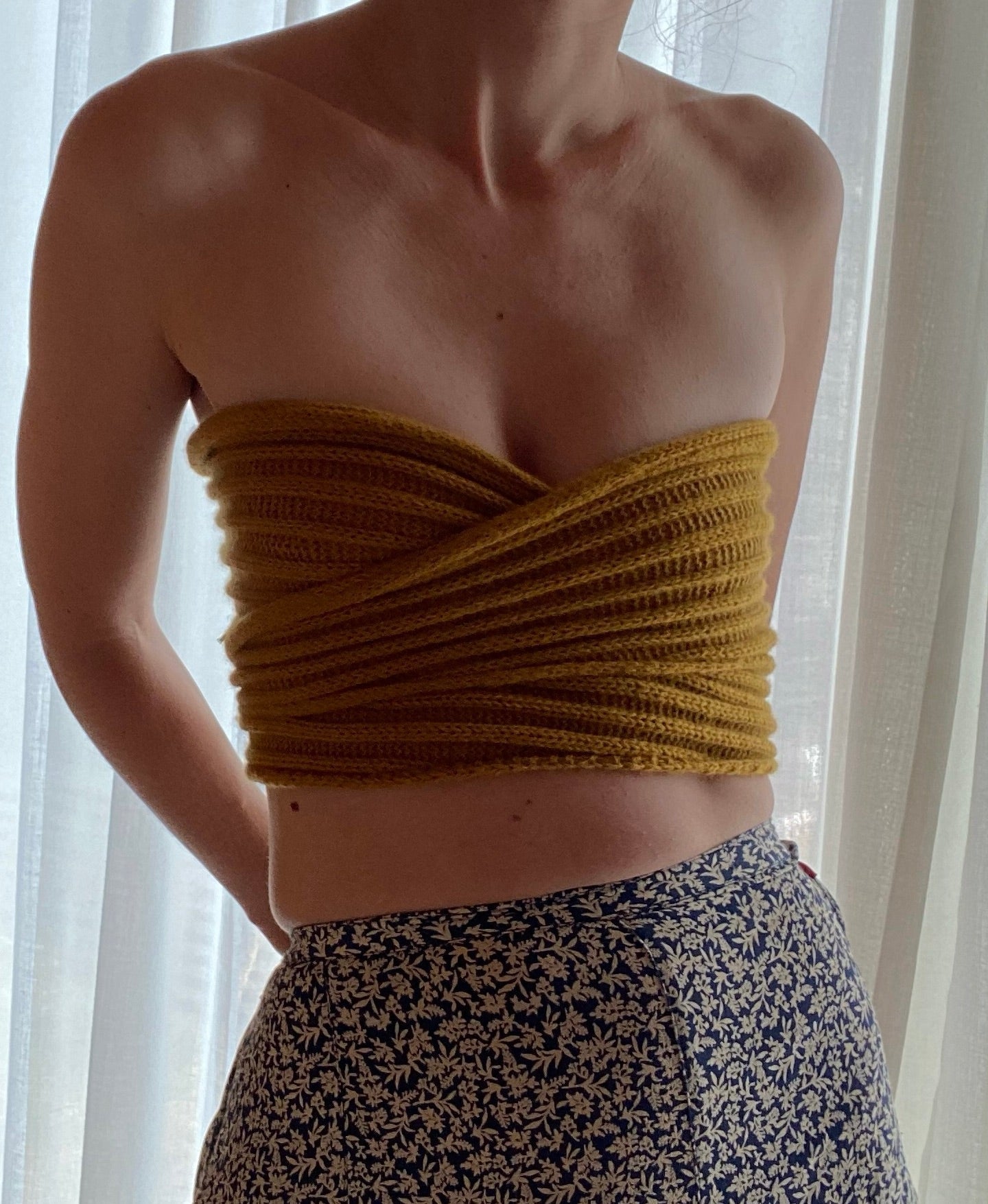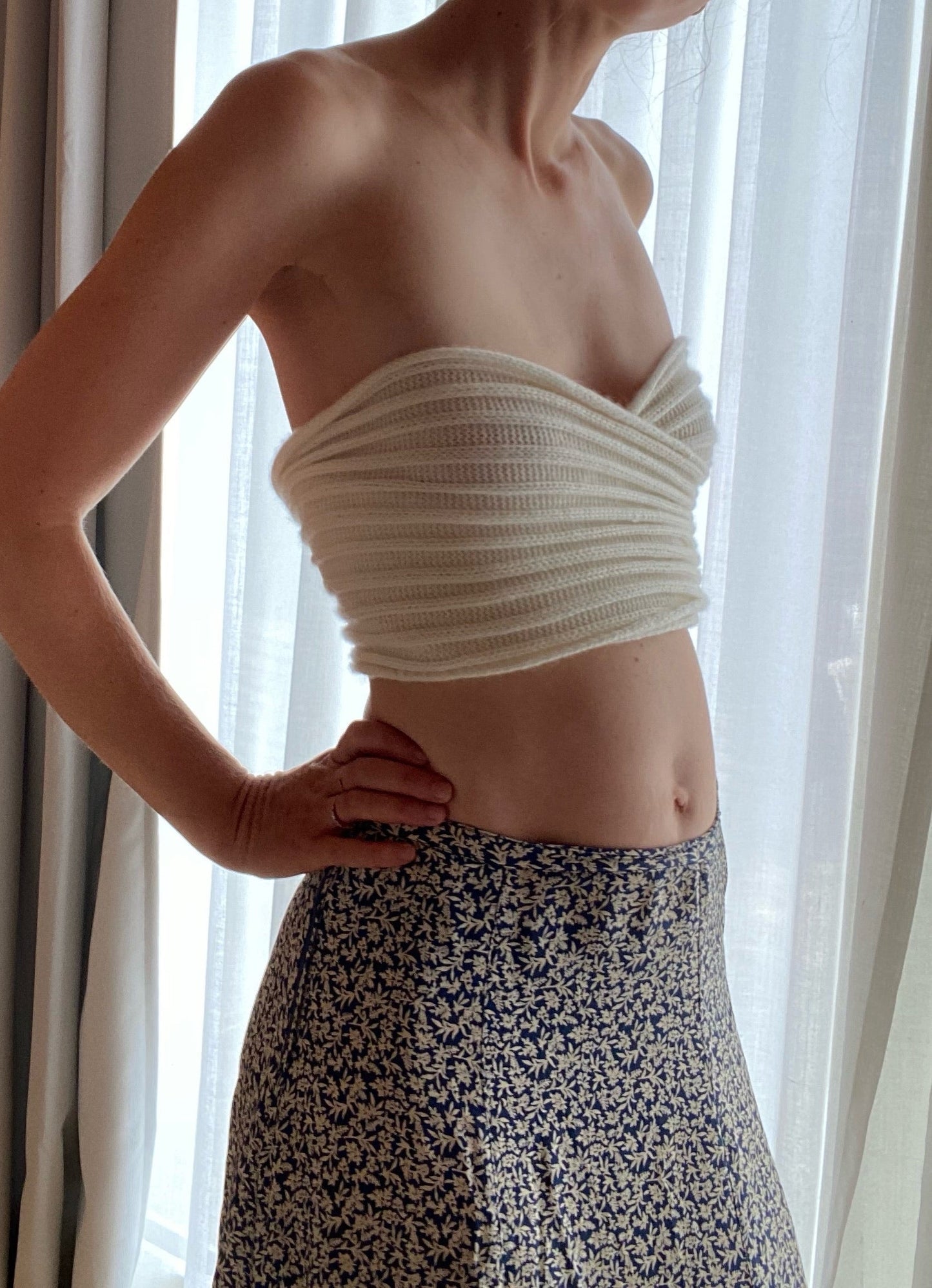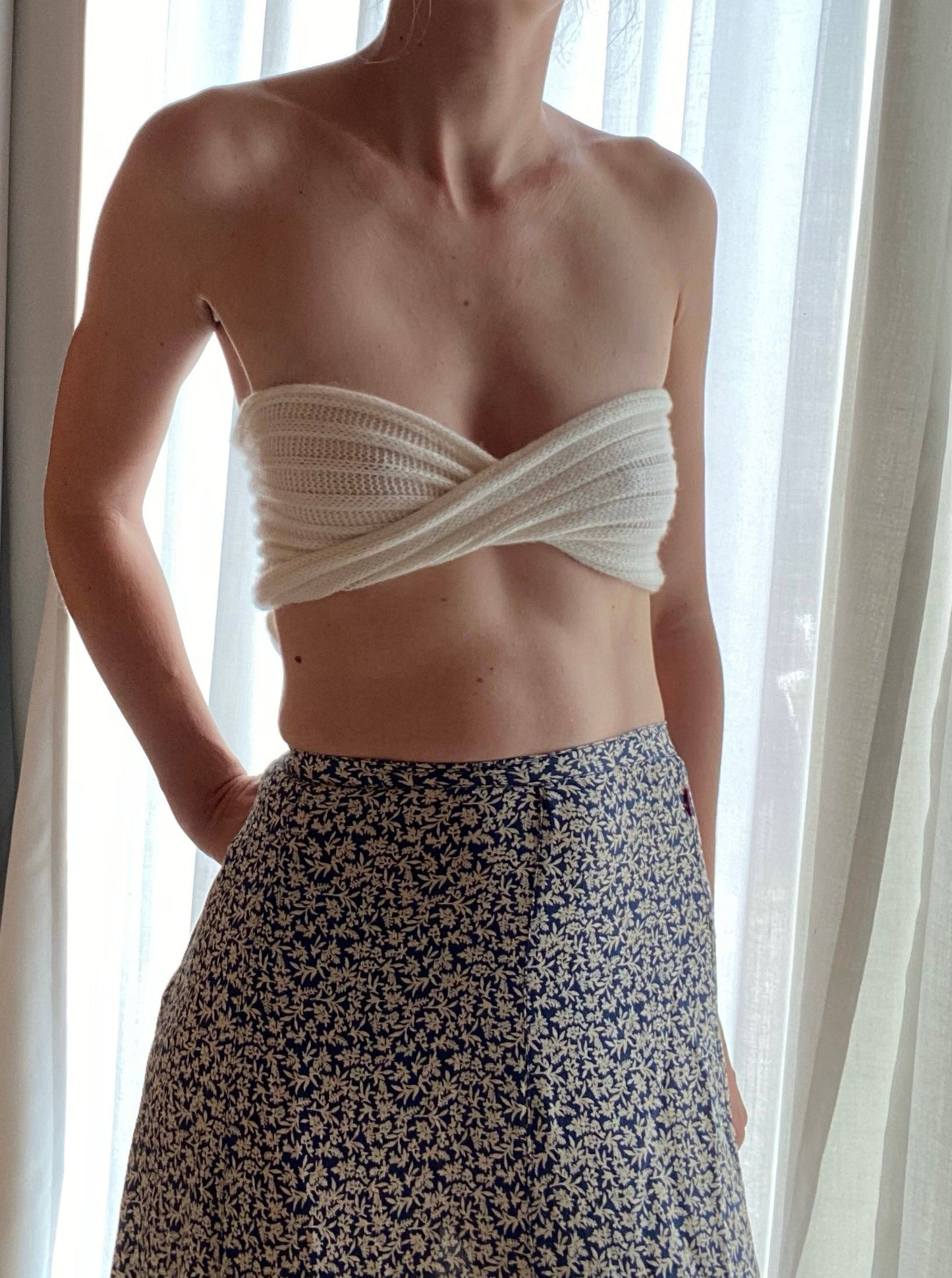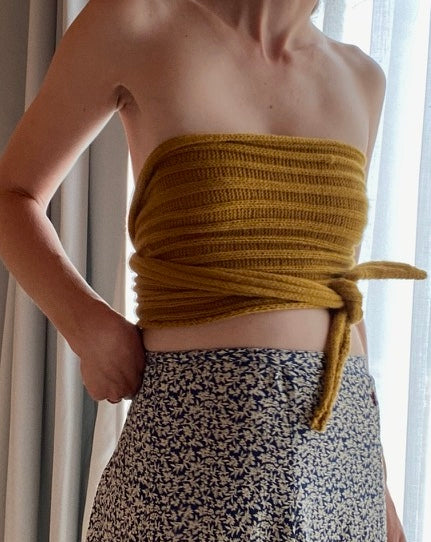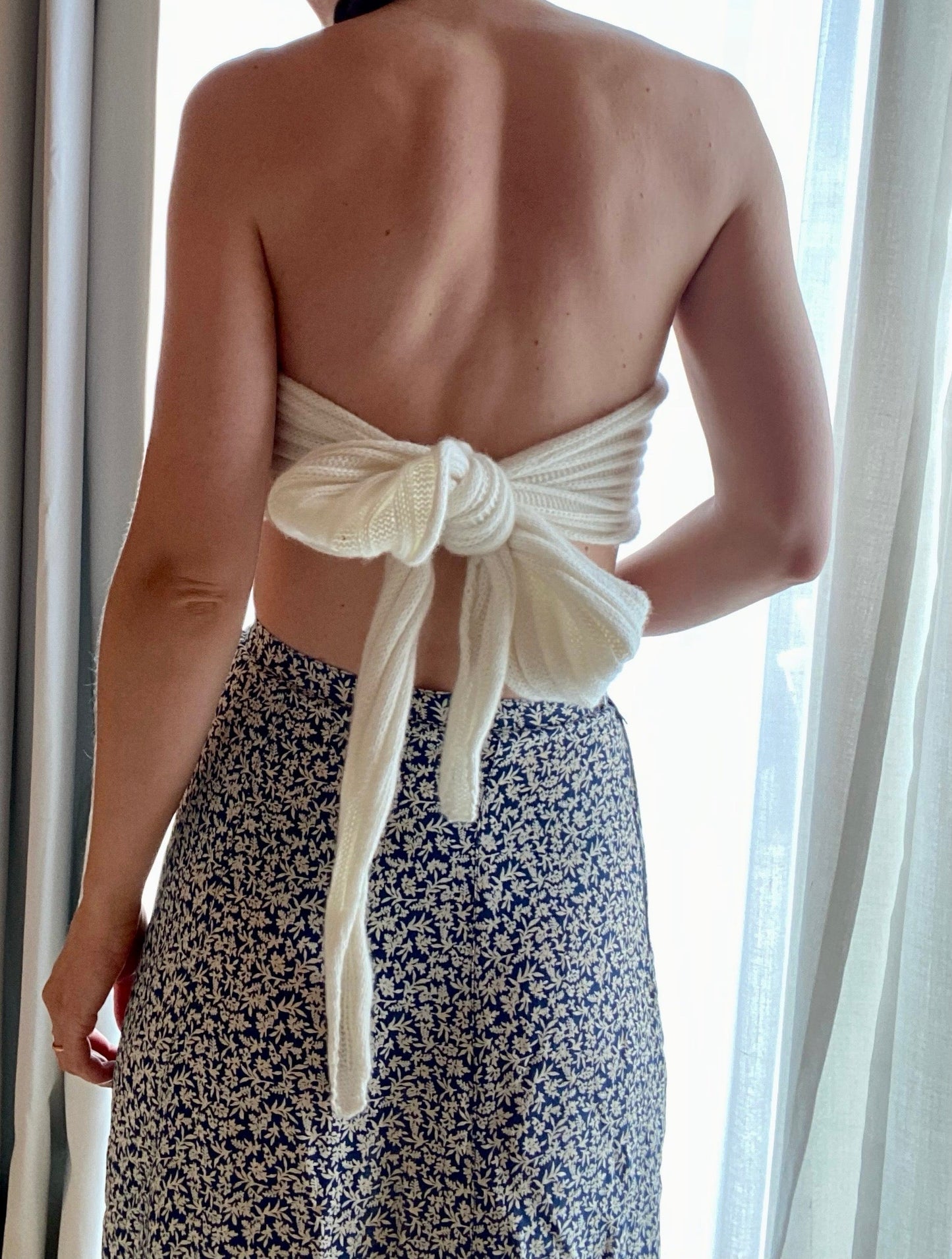 Frequently asked questions
How does the individual sizing work?

This differs from pattern to pattern, but oftentimes we ask you to measure underneath your bust and across your bust. Then we offer a calculation based on the knitting tension and this in turn tells you e.g. how many stitches you should cast on for your band. 

Other times, it's measuring the cups to your body and stopping when you feel they give the coverage you prefer. For some of our patterns we have created an Excel sheet where you simply type in your measurements and it provides you with the amount of stitches, cast-ons ect. Going forward we will optimise this and add it to more patterns. 
How much support do your bras give?

The bras give the same support as a soft, wireless bra. However there are no strap adjustments in the patterns yet, so we generally recommend you knit the straps 5-10 cm shorter than you normally would, so they can ease.
Can I knit in other types of yarn than cashmere?

Of course you can! 

We recommend cashmere because while researching many different yarn types, cashmere was the yarn that was the softest against the skin for the longest duration of time. Also cashmere on small needles tends to give a more tight knitted, elegant look, that we feel are perfect for our designs.But as long as you match the knitting tension to whatever yarn you are using, you can use whatever yarn you want. 
Do you have video tutorials for your patterns?

We share tutorials in our Instagram highlights and we have started a YouTube channel, where going forward will share a lot more tutorials and tips to your patterns. If you have any suggestions or wishes for methods or specific patterns we should do a tutorial for, please let us now atsupport@nakedknit.com