nakedknit
Regular price
Sale price
$6.00 USD
Unit price
per
Sale
Sold out
Diese Strickmuster ist auf Deutsch
The Basic Bra ist ein BH mit schlichtem Look und bequemer Passform.

Der BH ist aus Kaschmirwolle gestrickt, was dafür sorgt, dass er nicht auf der nackten Haut kratzt, außerdem ist er atmungsaktiv, leitet Feuchtigkeit vom Körper weg und ist weich zu tragen.

Der BH wird von unten nach oben gestrickt. Der Bund wird in Runden im Rippenmuster nach Ihren individuellen Maßen gestrickt. Wenn der Brust gestrickt ist, wird die Arbeit in zwei Teile geteilt und die Körbchen einzeln gestrickt. Die einzige Befestigung im gesamten BH ist die Befestigung der Träger.
Die Strickspannung in dieser Anleitung mit Nadelstärke 2,5mm ist:  10 x 10 cm = 27 M / 44 R
Nadeln und Zubehör

1 Rundstricknadel 2mm, 40 cm. 

1 Rundstricknadel oder zwei Nadeln aus einem Nadelspiel 2,5mm (Länge nicht wichtig)

2 Nadeln aus einem Nadelspiel 2,5mm 

1 großer Maschenhalter

1 Maßband

Ein breites elastisches Band, höhe von 4cm.

Eine Sicherheitsnadel

4 Maschenmarkierer oder Sicherheitsnadeln

1 Schere

1 Nähnadel um die Garnenden zu vernähen

Du könntest ein Maschenhalterseil gebrauchen, alternativ dazu kannst du ein Stück Restgarn in einer anderen Farbe verwenden. 

Du kannst das App Knitting Helper für die Berechnungen der Zu-/Abnahmen verwenden

Garnvorschlag
Wir schlagen das folgende Garn vor:
nakedknit Cashmere 170: 50g (50g) 75g (75g)
Lauflänge: 170m/25g

oder

Lang Yarns Cashmere Lace: 50g (50g) 75g (75g) 
Lauflänge: 165m/25g

Bitte beachten: Kaschmir ist fein und weich auf der Haut zu tragen. Darum empfehlen wir klar den Garnvorschlägen zu folgen. Es kann nicht garantiert werden, dass der BH nicht auf der Haut kratzt, wenn in anderen als den vorgeschlagenen Garnqualitäten gestrickt wird.

Die Strickspannung in dieser Anleitung ist anders als die Spannung, die bei den oben genannten Garnen angegeben ist, da wir mit einer Nadelstärke von 2 und 2,5mm stricken, damit es dichter aussieht.

Share
View full details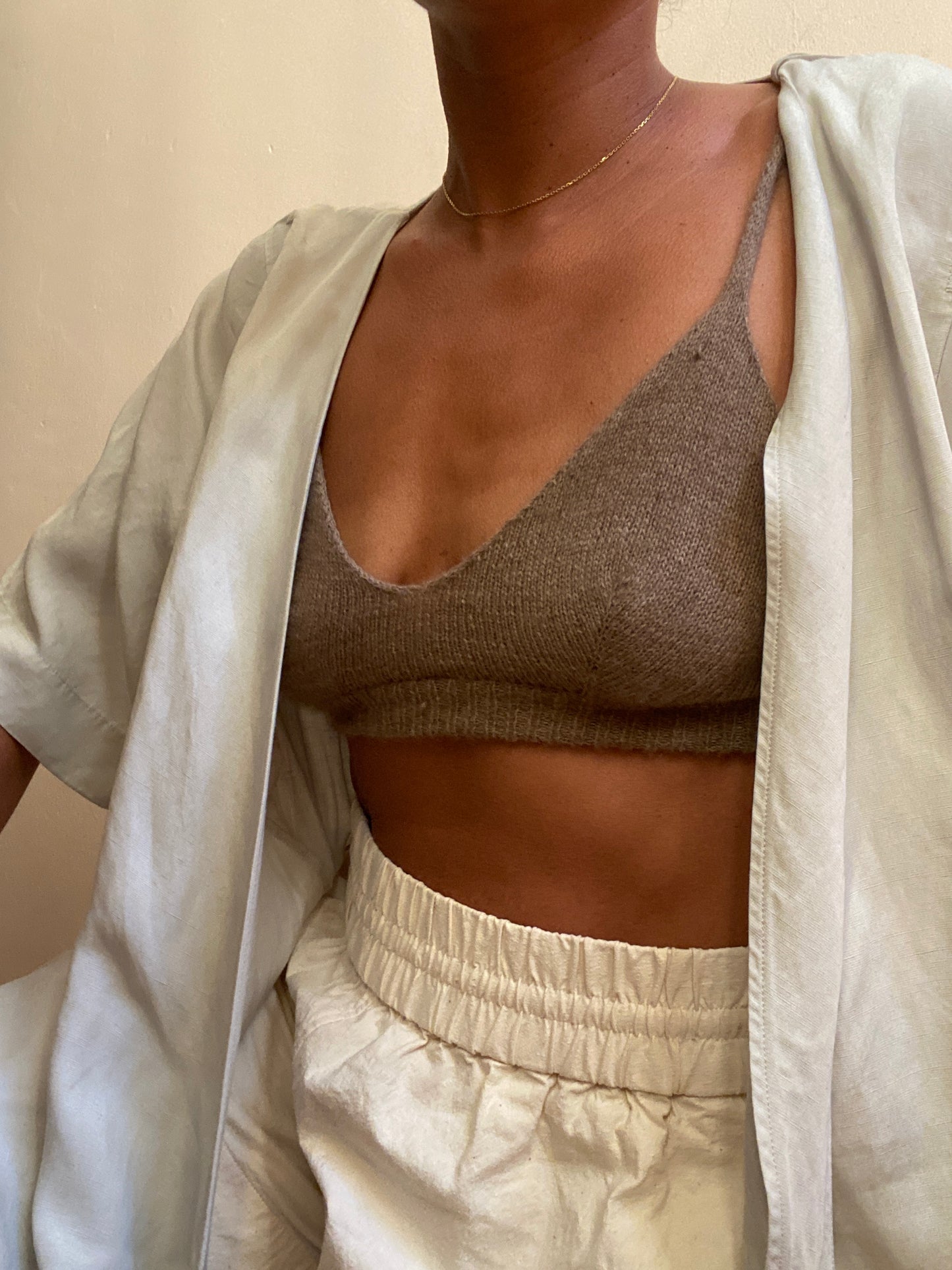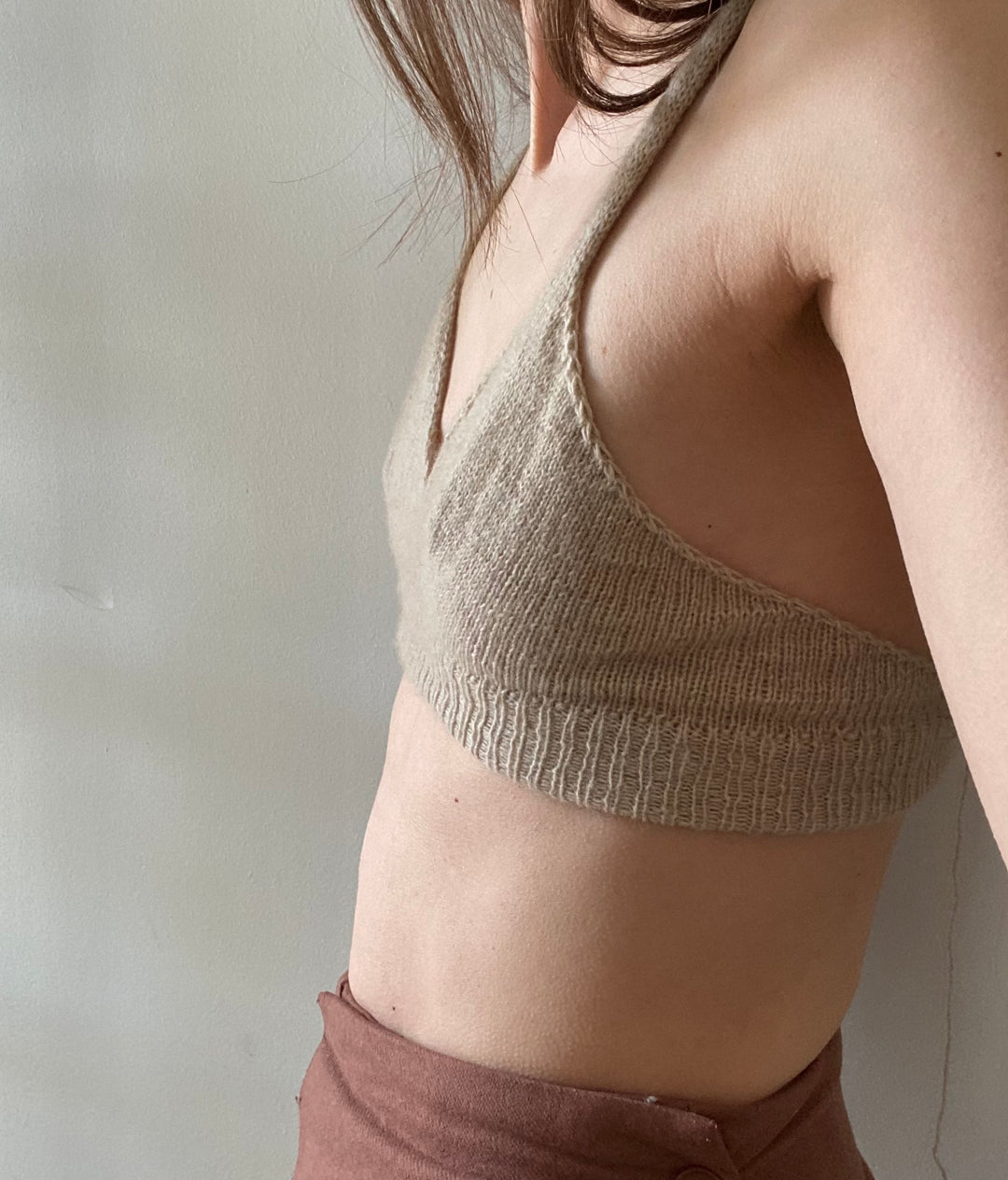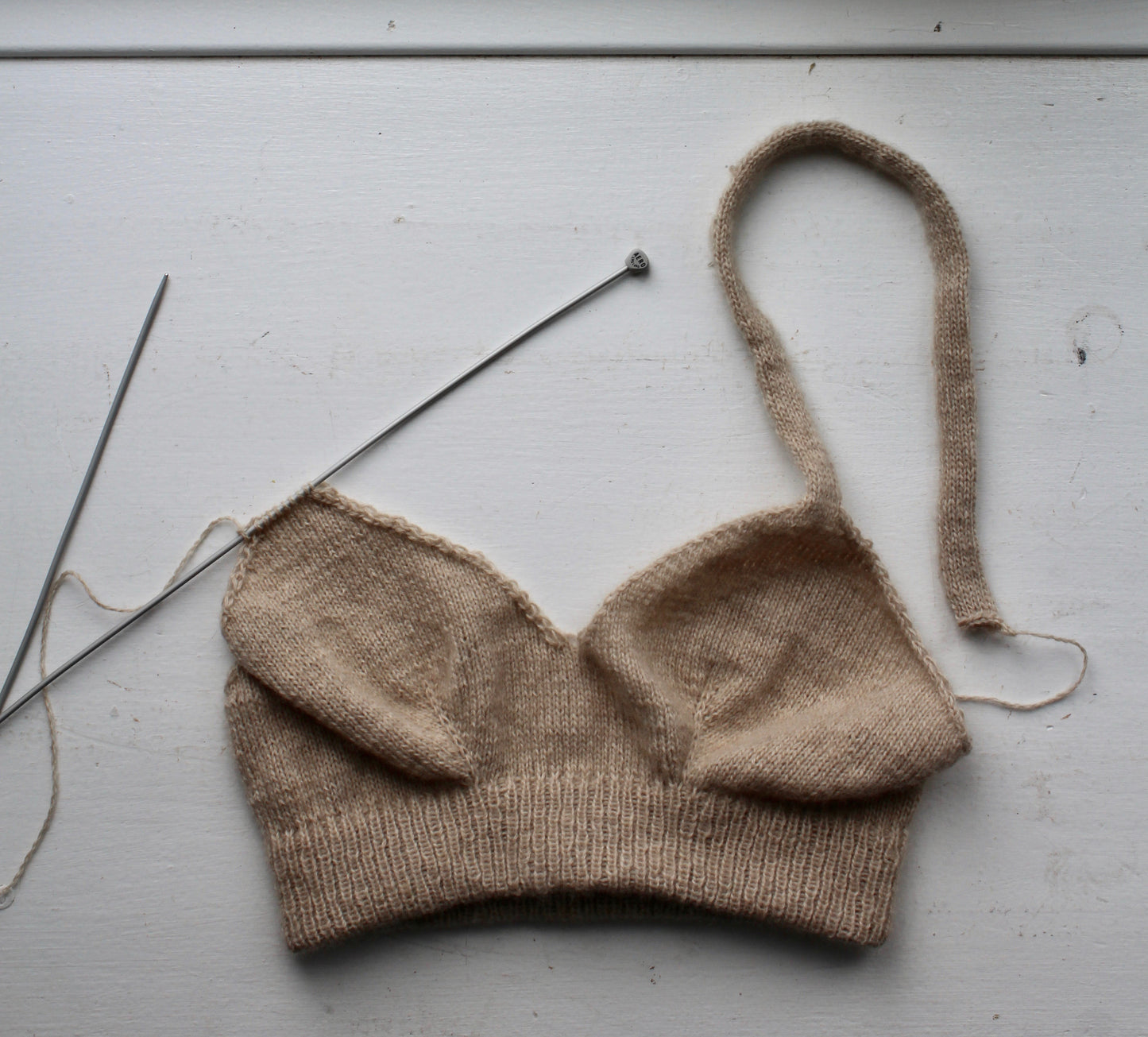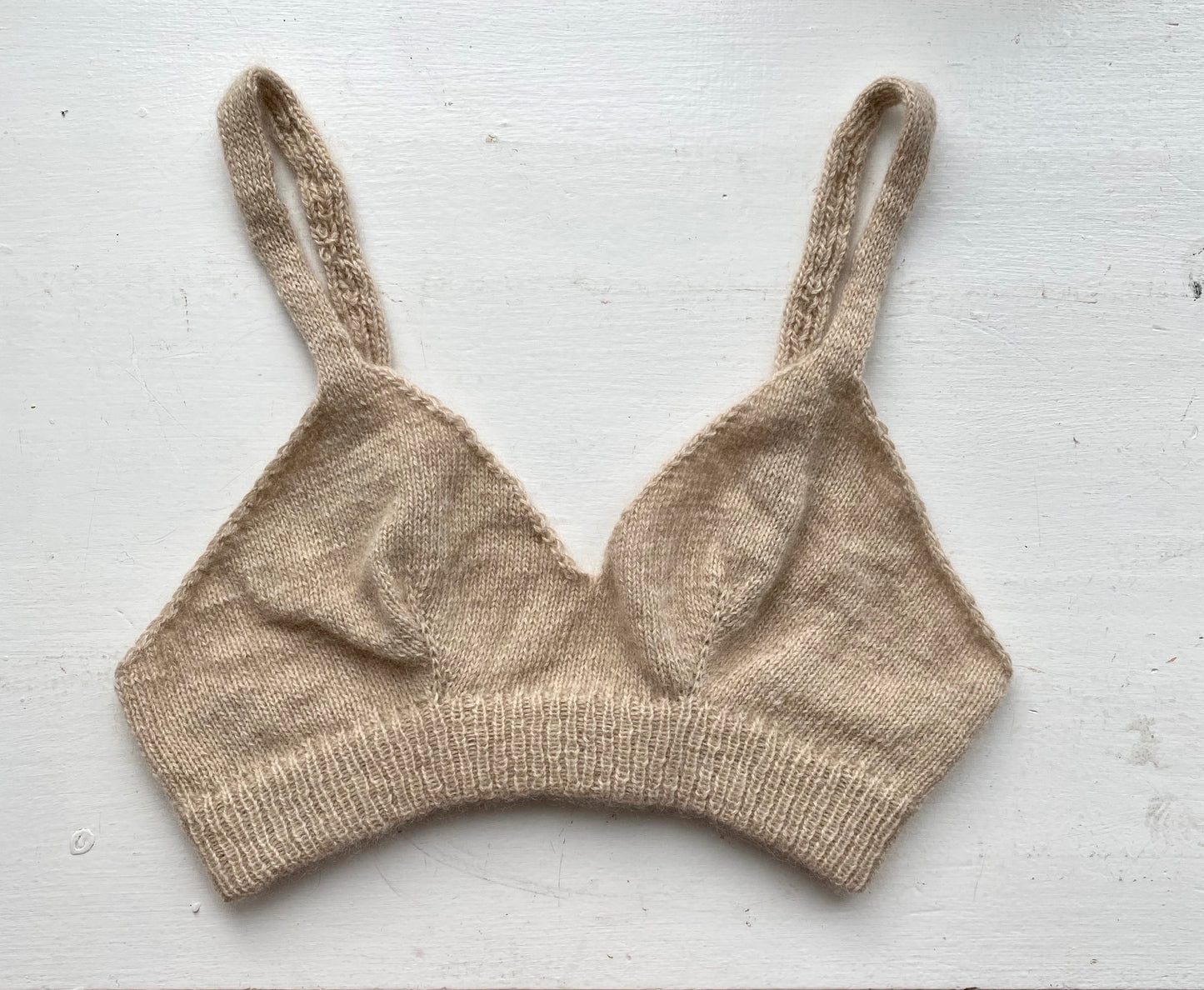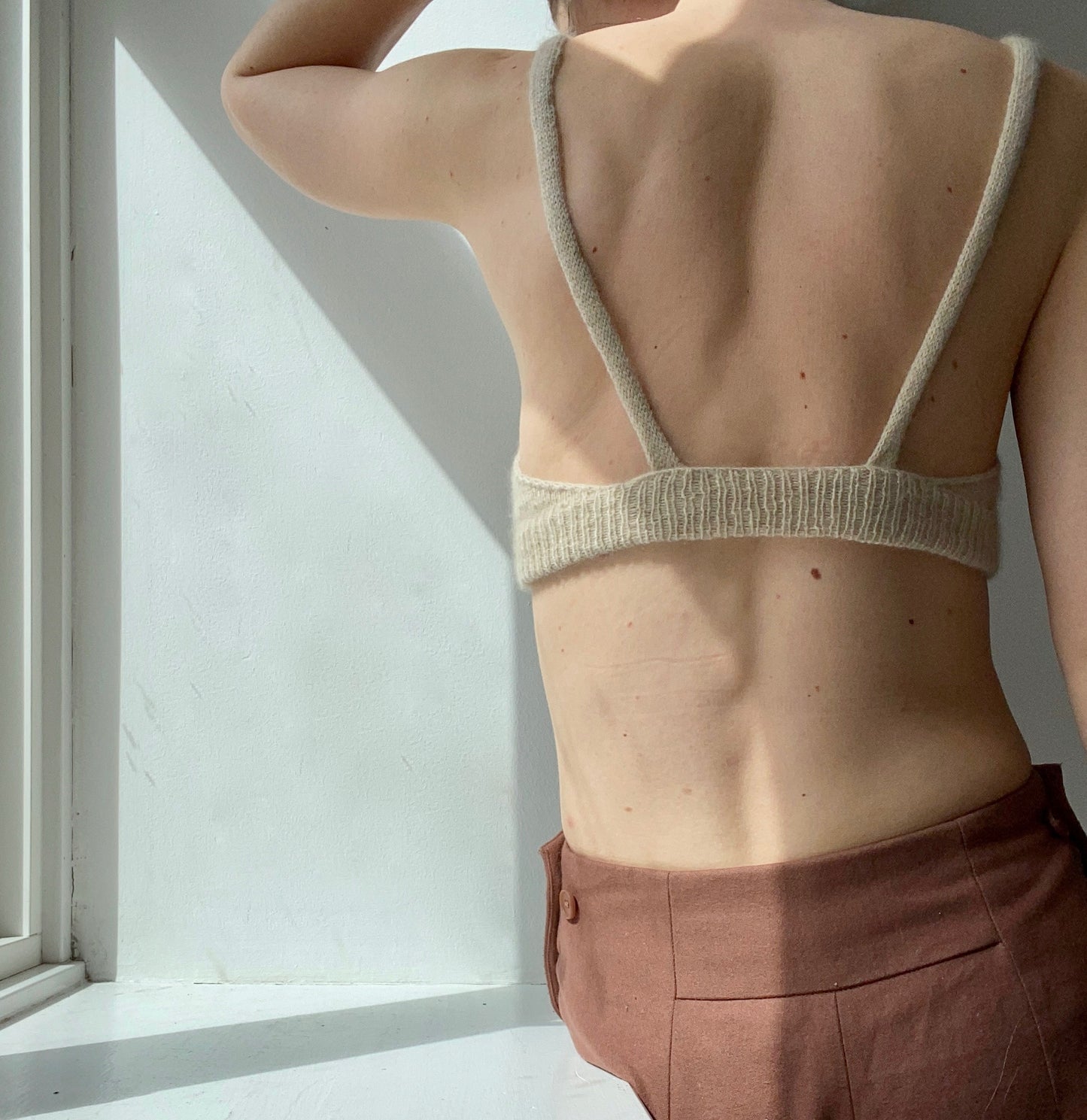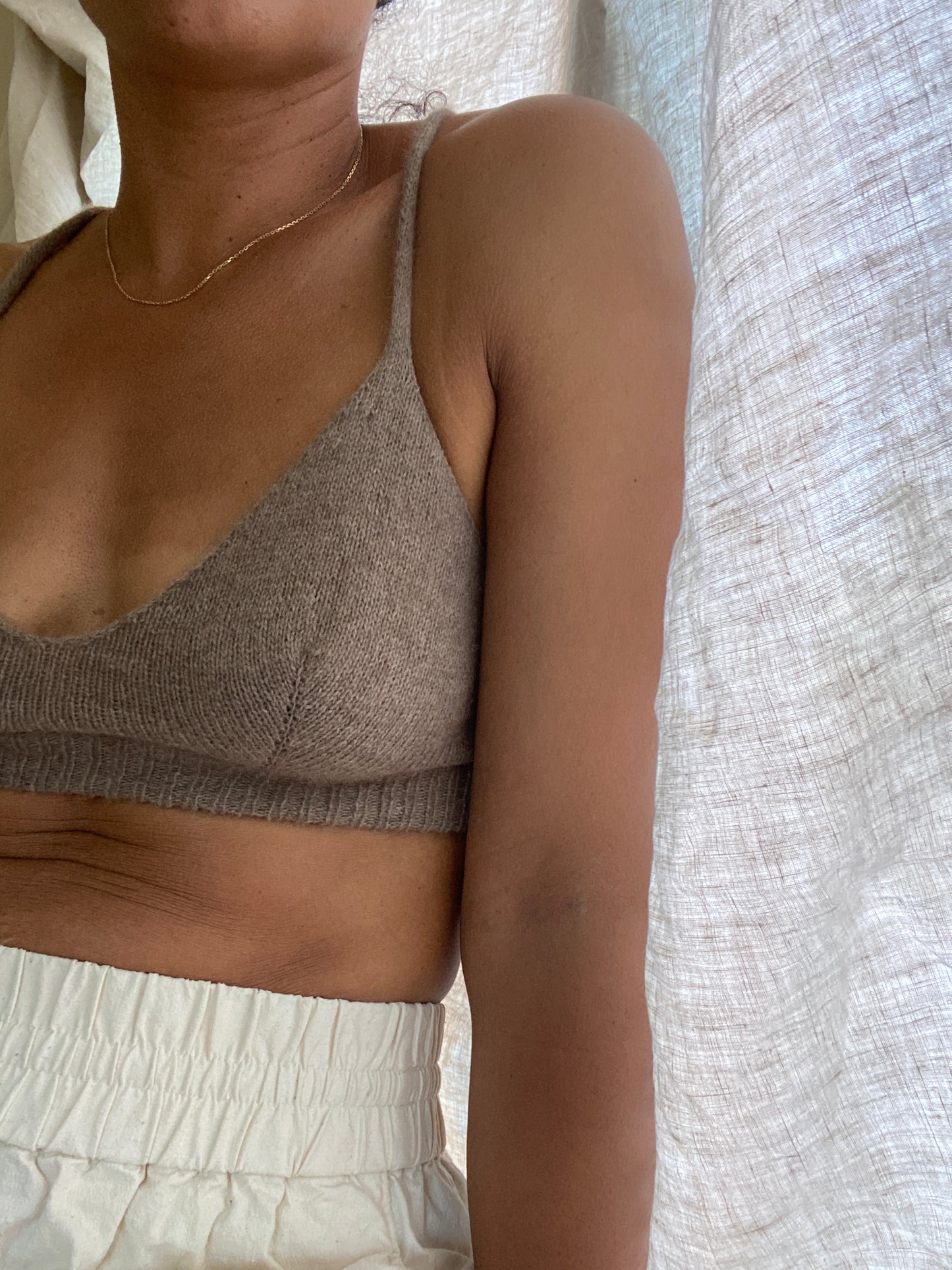 Frequently asked questions
How does the individual sizing work?

This differs from pattern to pattern, but oftentimes we ask you to measure underneath your bust and across your bust. Then we offer a calculation based on the knitting tension and this in turn tells you e.g. how many stitches you should cast on for your band. 

Other times, it's measuring the cups to your body and stopping when you feel they give the coverage you prefer. For some of our patterns we have created an Excel sheet where you simply type in your measurements and it provides you with the amount of stitches, cast-ons ect. Going forward we will optimise this and add it to more patterns. 
How much support do your bras give?

The bras give the same support as a soft, wireless bra. However there are no strap adjustments in the patterns yet, so we generally recommend you knit the straps 5-10 cm shorter than you normally would, so they can ease.
Can I knit in other types of yarn than cashmere?

Of course you can! 

We recommend cashmere because while researching many different yarn types, cashmere was the yarn that was the softest against the skin for the longest duration of time. Also cashmere on small needles tends to give a more tight knitted, elegant look, that we feel are perfect for our designs.But as long as you match the knitting tension to whatever yarn you are using, you can use whatever yarn you want. 
Do you have video tutorials for your patterns?

We share tutorials in our Instagram highlights and we have started a YouTube channel, where going forward will share a lot more tutorials and tips to your patterns. If you have any suggestions or wishes for methods or specific patterns we should do a tutorial for, please let us now atsupport@nakedknit.com