nakedknit
Regular price
Sale price
$8.00 USD
Unit price
per
Sale
Sold out
The Casual Top är en tunn, enkel och allsidig topp. 
Det är skapad utifrån en önskan om en bastopp som kan användas både sommar och vinter – på egen hand eller under andra plagg. Den tunna kvalitén gör att den är enormt användbar både under de varma och de kalla månaderna.
The Casual Top stickas nedifrån och upp. Ett individuellt beräknat antal maskor läggs upp till kroppsstyckets del. Därefter stickas runt i slätstickning på stickor 2,5 tills arbetet når till ärmhålens början. Toppen kan stickas både i en lång och i en kort version beroende vilken längd du önskar.
Stickor och tillbehör
1 rundsticka 2,5 40/60 cm 

1 runsticka 2 40 cm 

2 strumpstickor 2,5 

Resårtråd 

1 Tapisserienål att fästa trådar samt sy vikt kant med 

4 Kabelmaskhållare

alternativt ett tjockare garn i en kontrasterande färg 

3 Maskhållare i aluminium 

1 Måttband 

1 Maskmarkör

alternativt en säkerhetsnål 
Garn
Gepard Cashmere Lace (100% Cashmere) 
Längd: 350m/25g 
The Casual Top Stickas efter dina egna mått, men en uppskattad garnmängd är: 


S = 70–75 cm kring magen och längd 45cm: 50-75g
M = 76–84 cm kring magen och längd 50 cm: 75g 
L = 85–95 cm kring magen och längd 55 cm: 75-100g 
XL = 96–107 cm kring magen och längd 60 cm: 100-125g 
XXL = 108–120 cm kring magen och längd 60 cm: 125-150g 


Eftersom toppen stickas efter egna mått så är garnmängden beroende på din omkrets kring magen samt hur lång din överkropp är. Vår rekommendation är att alltid köpa ett garnnystan för mycket än ett för lite. På så sätt säkrar du även att dina garnnystan kommer från samma färgbad. De flesta garnåterförsäljare tar även oöppnade garnnystan i retur. 
OBS! Cashmere är mjukt och lent att bära hudnära. Därför rekommenderar vi starkt  att följa den här garnhänvisningen. Det kan nämligen inte garanteras att undertröjan inte kliar mot huden om en annan typ av garn skulle användas. 


Stickfasthet
The Casual Top stickas i slätstickning på stickor 2,5. 
Stickfastheten är 32x60p = 10x10 cm 
Share
View full details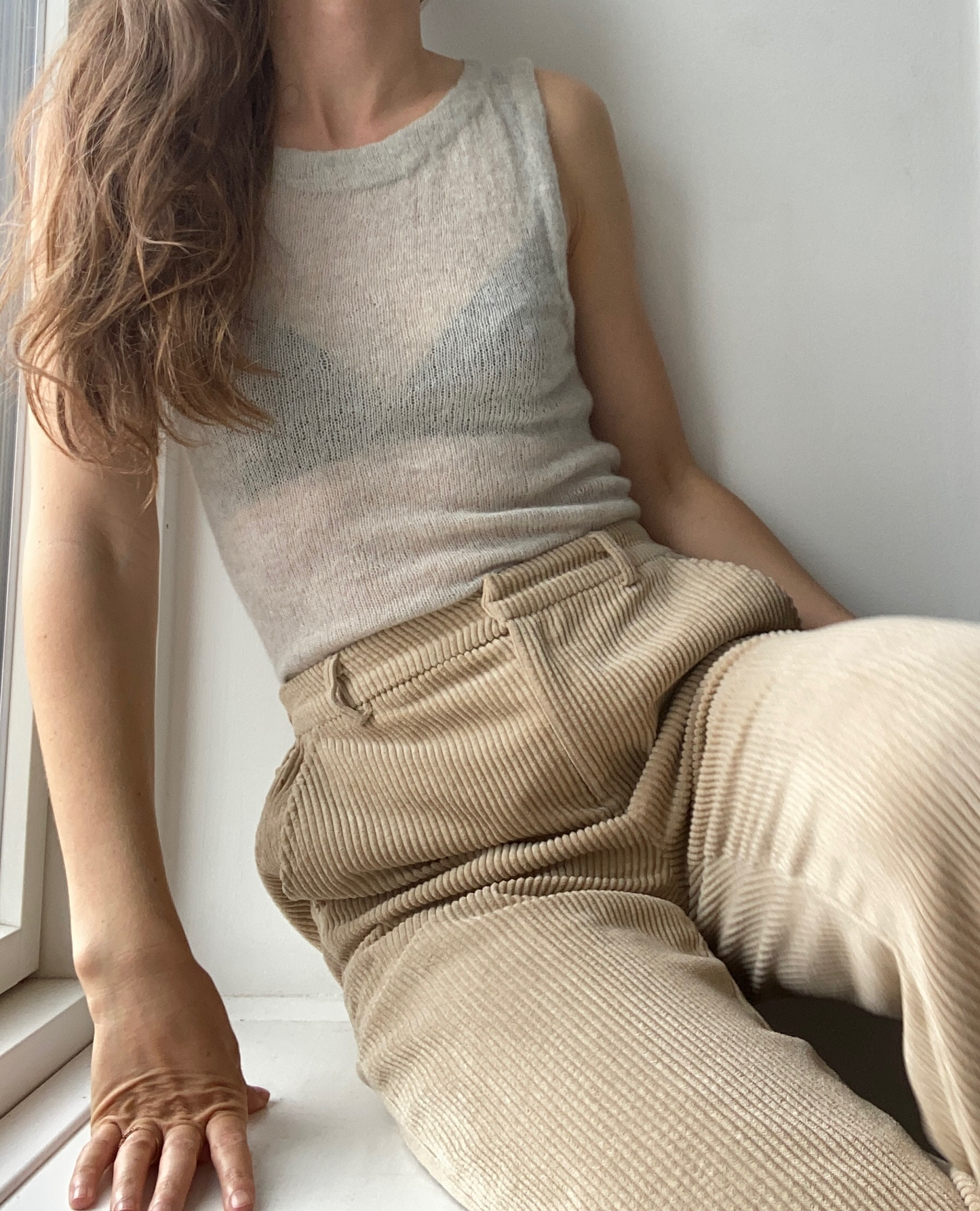 Frequently asked questions
How does the individual sizing work?

This differs from pattern to pattern, but oftentimes we ask you to measure underneath your bust and across your bust. Then we offer a calculation based on the knitting tension and this in turn tells you e.g. how many stitches you should cast on for your band. 

Other times, it's measuring the cups to your body and stopping when you feel they give the coverage you prefer. For some of our patterns we have created an Excel sheet where you simply type in your measurements and it provides you with the amount of stitches, cast-ons ect. Going forward we will optimise this and add it to more patterns. 
How much support do your bras give?

The bras give the same support as a soft, wireless bra. However there are no strap adjustments in the patterns yet, so we generally recommend you knit the straps 5-10 cm shorter than you normally would, so they can ease.
Can I knit in other types of yarn than cashmere?

Of course you can! 

We recommend cashmere because while researching many different yarn types, cashmere was the yarn that was the softest against the skin for the longest duration of time. Also cashmere on small needles tends to give a more tight knitted, elegant look, that we feel are perfect for our designs.But as long as you match the knitting tension to whatever yarn you are using, you can use whatever yarn you want. 
Do you have video tutorials for your patterns?

We share tutorials in our Instagram highlights and we have started a YouTube channel, where going forward will share a lot more tutorials and tips to your patterns. If you have any suggestions or wishes for methods or specific patterns we should do a tutorial for, please let us now atsupport@nakedknit.com