nakedknit
Regular price
Sale price
$7.00 USD
Unit price
per
Sale
Sold out
The Milk Wrap er en enkel, fin og behagelig amme-bh/top. The Milk Wrap strikkes oppefra og ned, og strikkes efter egne mål for bedst mulig komfort og pasform.  Opskriften indeholder både opskrift på bh'en og på toppen.
Den strikkes i 100% cashmere, hvilket gør, at den ikke kradser mod den bare hud og derudover er let åndbart. Derudover har cashmere egenskaber så fugt ledes væk fra barmen og kroppen, samtidig med, at kroppen holdes varm, når dette er nødvendigt. 
Pinde og tilbehør:
Rundpind str. 3, 40 eller 60 cm 

Rundpind str. 2,5, 40 cm,

hvis du ønsker at strikke top-versionen

2 stk. strømpepinde str. 3

1 alm. strikkepind str. 3, til når skålene skal strikkes sammen.

1 maskeholder-snor

1 maskeholder

Bukseelastik - 5 eller 6,5 cm i højden,

hvis du ønsker at strikke bh-versionen 

2 par trykknapper 

1 maskemarkør

Målebånd

Saks

Stump nål til at sy og montere garnenderne

En smule sytråd samt en synål,

hvis du ønsker at strikke bh-versionen

Evt. en elastiksnor til at sy løbegangen sammen med

Garn
nakedknit cashmere 112 (112m/25g)
 
Eller


Lang Yarn Cashmere Premium (115 m/25g)

OBS! Cashmere er lækkert og blødt at have tæt på huden. Derfor er det vores klare anbefaling, at man følger denne garnanvisning.  Det kan ikke garanteres at modellen ikke kradser mod huden, hvis der strikkes i andre garntyper end de anbefalede. Derudover bør det bemærkes, at der særligt med garnet fra Laines du Nord er stor forskel på blødheden afhængig af, hvilken farve det vælges i. Des mindre tilført farve, des blødere vil det være. Dette vil dog til en vis grad udligne sig efter vask. 

Strikkefastheden i denne opskrift er desuden en anden end den, som er angivet på garnnøglerne nævnt ovenfor. Dette er fordi vi strikker strammere end anbefalet - simpelthen for at opnå bedst hold til barmen. Hele opskriften strikkes på en pind 3.
Strikkefasthed: 30 m/10 cm målt i glatstrik.

Om størrelserne og garnmængde:
The Milk Wrap bh og The Milk Wrap Top strikkes efter egne mål hele vejen igennem. Begge skåle strikkes oppefra og ned, og du stopper dine skåle, når du vurderer, at de har en passende størrelse til din barm. Ligeledes strikkes båndet under barmen efter mål, ligesom de efterfølgende stropper gør det. Men en estimeret garnmængde er følgende - med udgangspunkt i din normale overkrops-størrelse:


The Milk Wrap Bra:
S = ca. 50g
M = ca. 75g
L = ca. 100g
The Milk Wrap Top: 
S = ca. 75g
M = ca. 100g
L = ca. 125g

Det er dog altid vores anbefaling at købe lidt ekstra garn for at være sikker på at have nok garn af samme indfarvning. De fleste garnforhandlere tager garn retur, hvis man ikke har åbnet en given nøgle. 
Share
View full details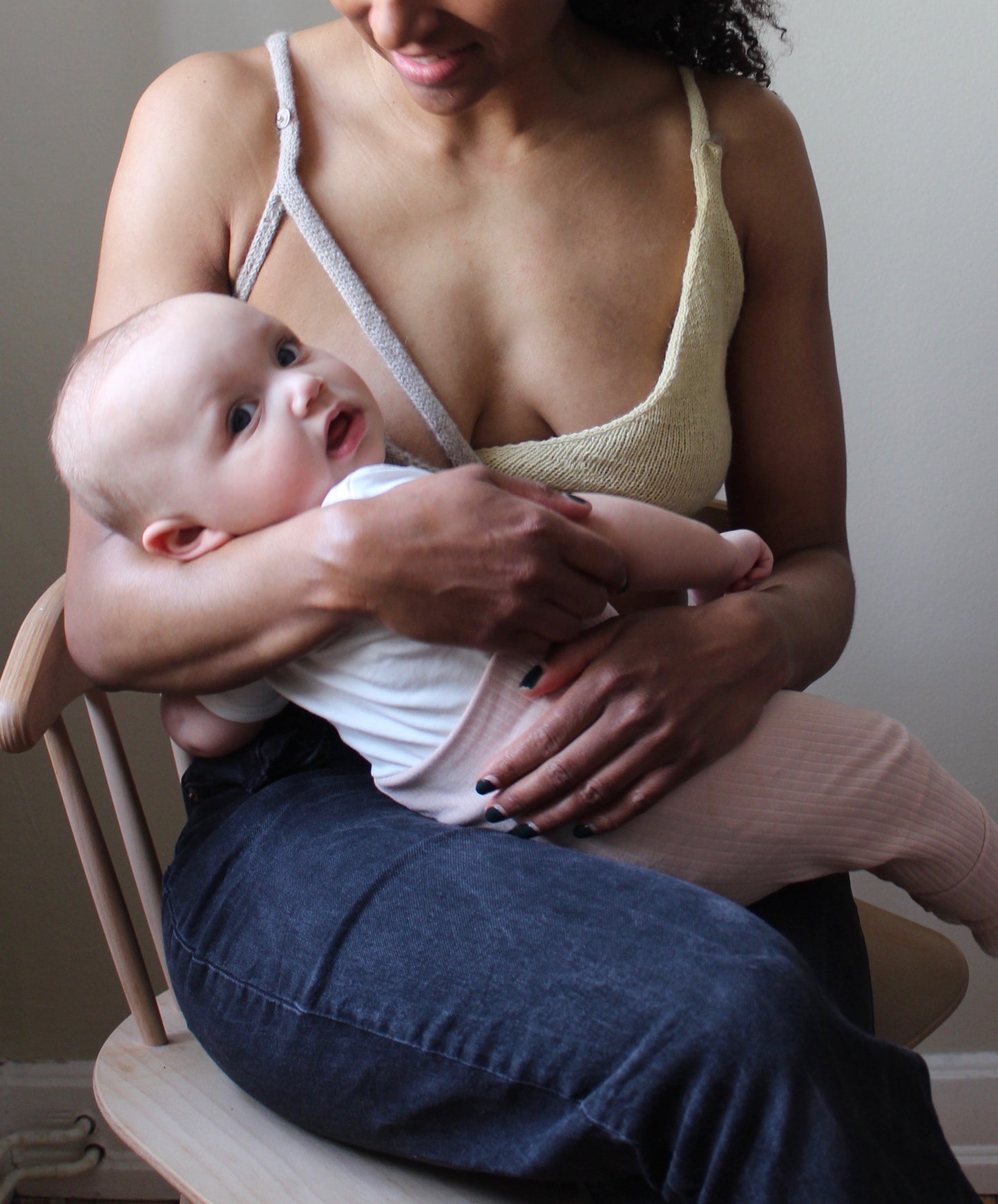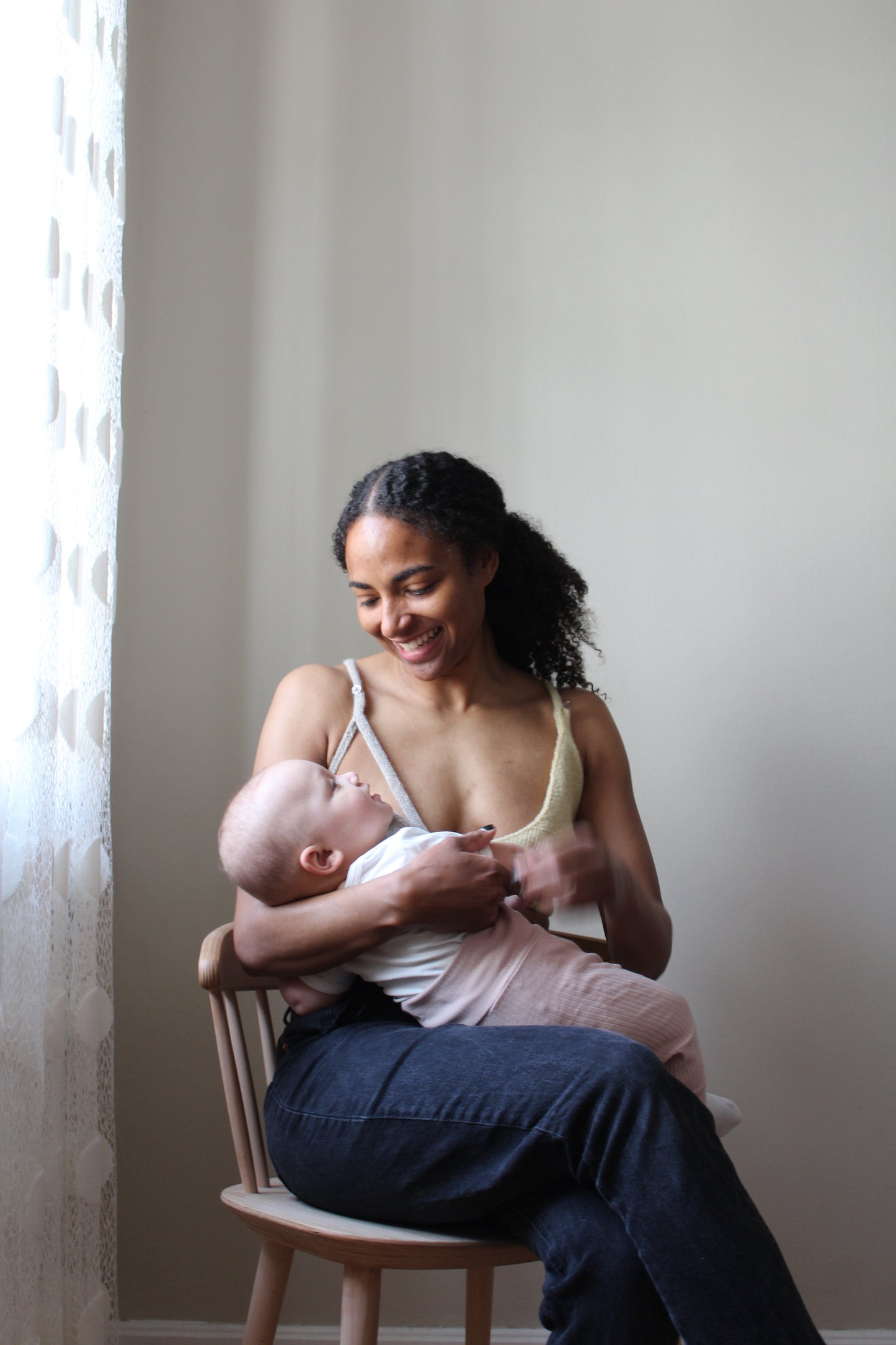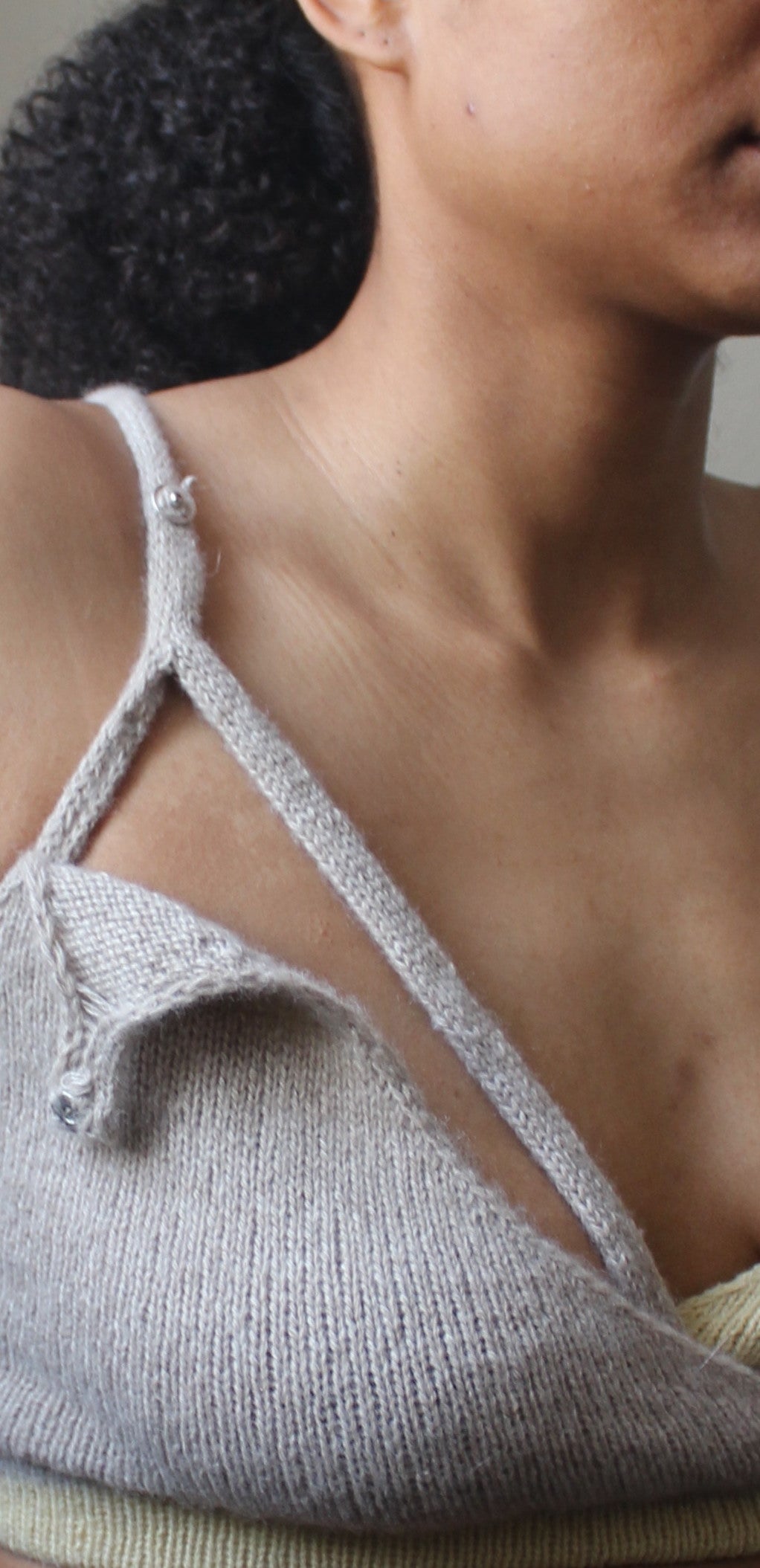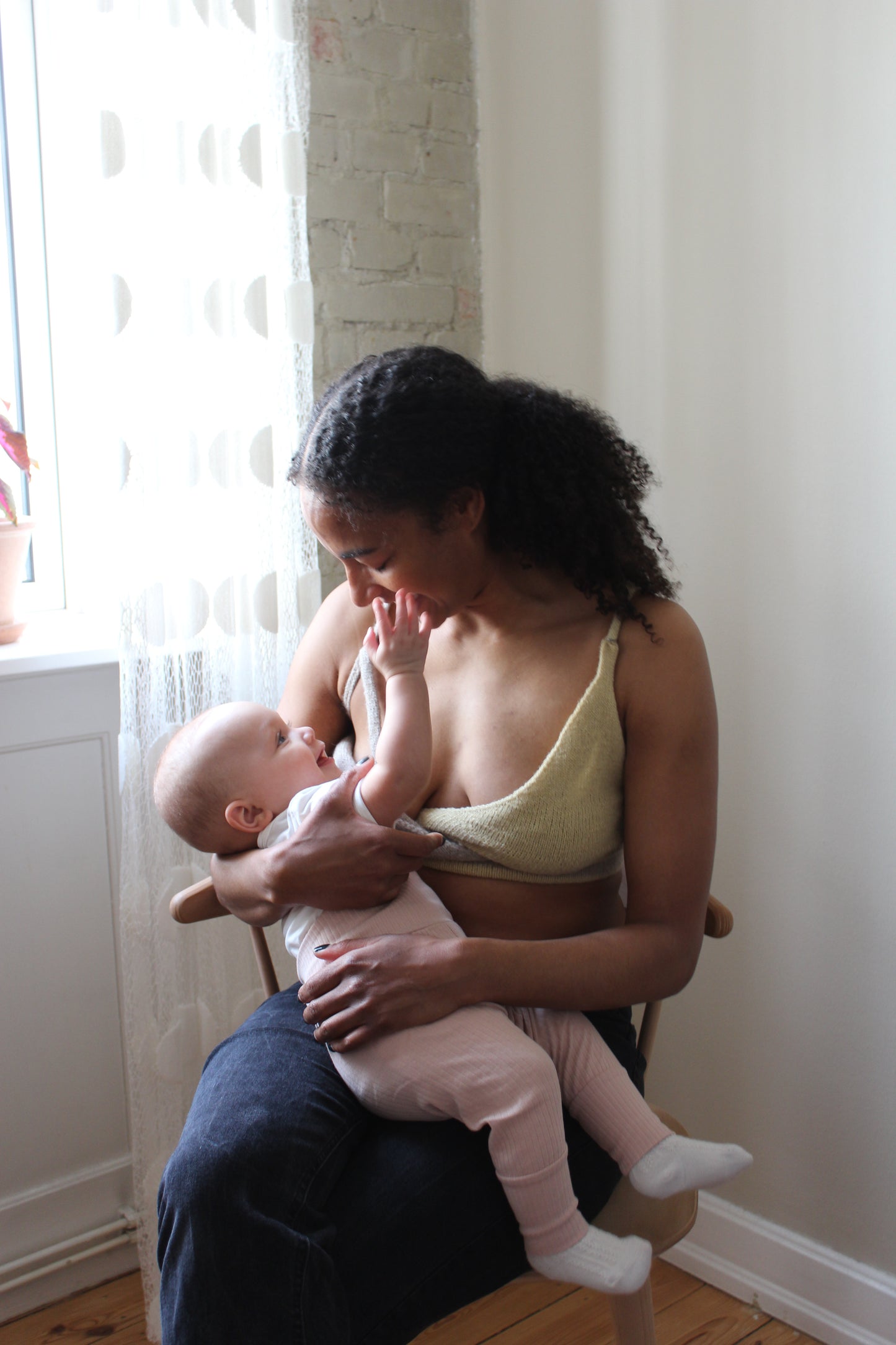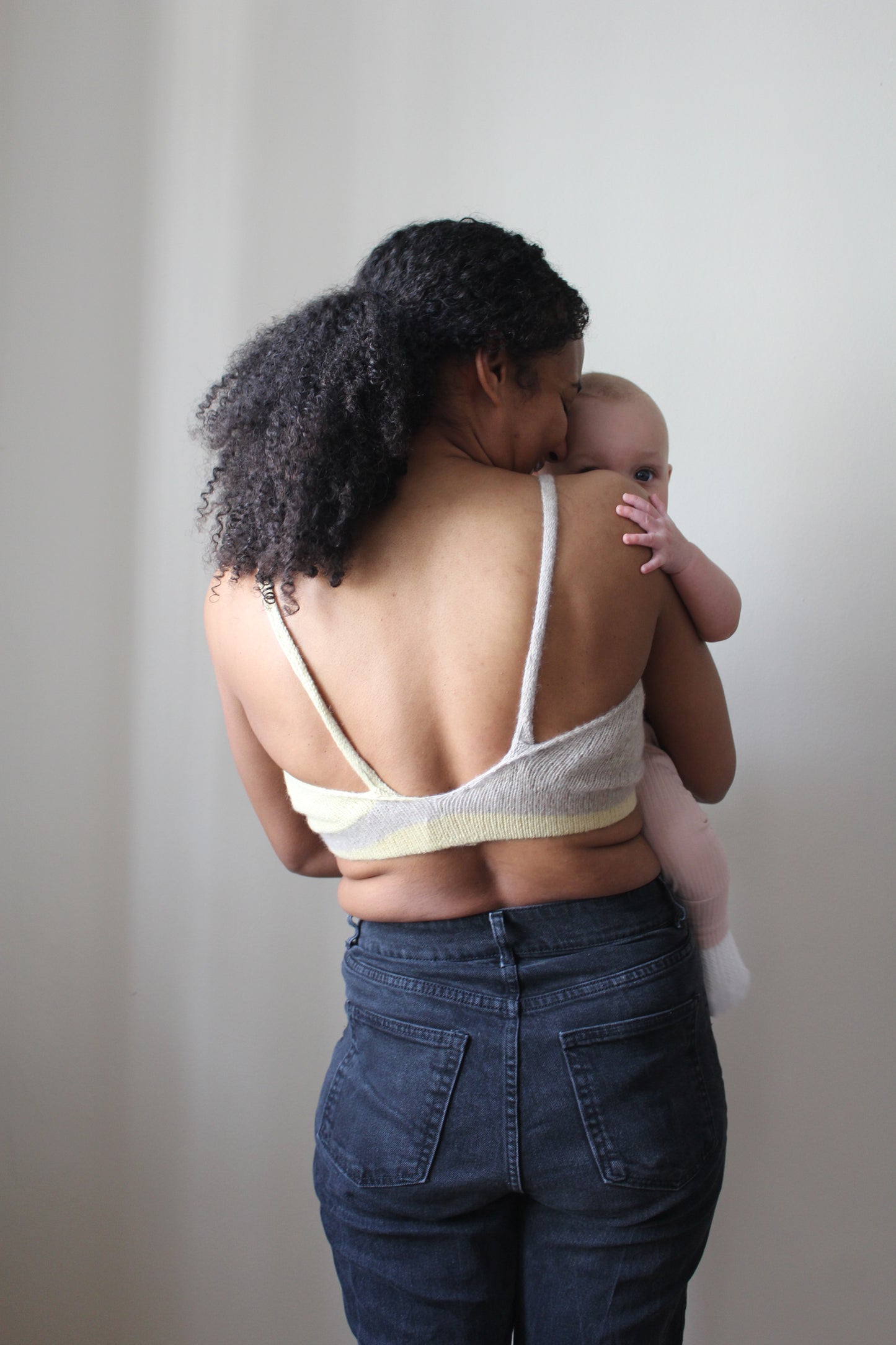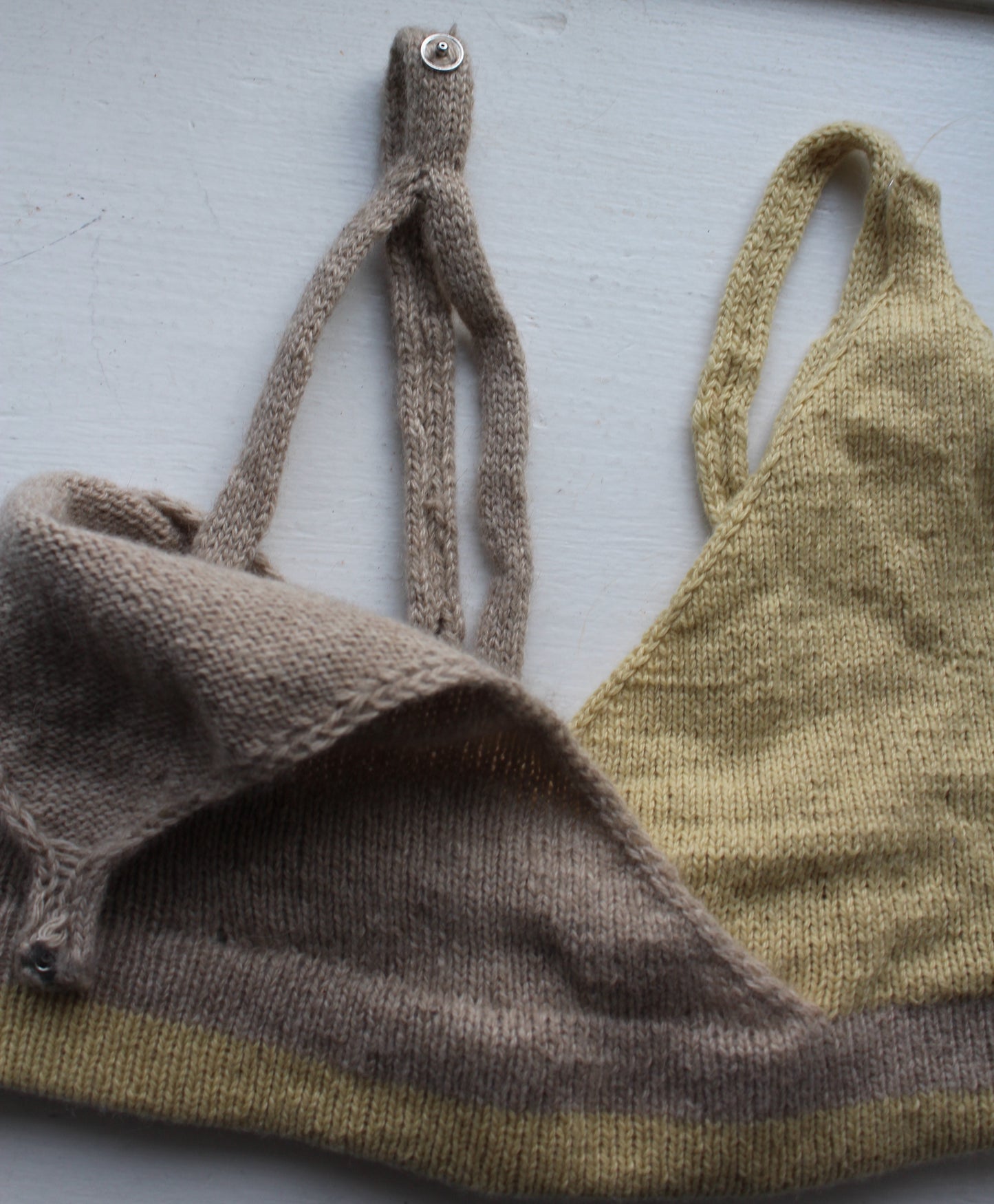 Frequently asked questions
How does the individual sizing work?

This differs from pattern to pattern, but oftentimes we ask you to measure underneath your bust and across your bust. Then we offer a calculation based on the knitting tension and this in turn tells you e.g. how many stitches you should cast on for your band. 

Other times, it's measuring the cups to your body and stopping when you feel they give the coverage you prefer. For some of our patterns we have created an Excel sheet where you simply type in your measurements and it provides you with the amount of stitches, cast-ons ect. Going forward we will optimise this and add it to more patterns. 
How much support do your bras give?

The bras give the same support as a soft, wireless bra. However there are no strap adjustments in the patterns yet, so we generally recommend you knit the straps 5-10 cm shorter than you normally would, so they can ease.
Can I knit in other types of yarn than cashmere?

Of course you can! 

We recommend cashmere because while researching many different yarn types, cashmere was the yarn that was the softest against the skin for the longest duration of time. Also cashmere on small needles tends to give a more tight knitted, elegant look, that we feel are perfect for our designs.But as long as you match the knitting tension to whatever yarn you are using, you can use whatever yarn you want. 
Do you have video tutorials for your patterns?

We share tutorials in our Instagram highlights and we have started a YouTube channel, where going forward will share a lot more tutorials and tips to your patterns. If you have any suggestions or wishes for methods or specific patterns we should do a tutorial for, please let us now atsupport@nakedknit.com