nakedknit
Regular price
Sale price
$8.00 USD
Unit price
per
Sale
Sold out
The Naked Tee is a longsleeved, thin and soft top in the simplest form. 
It's straightforward construction and silky smooth texture makes it dreamy in every aspect. 


Yarn
Gepard Cashmere Lace (100% cashmere) 
Length / weight: 350 m / 25 g 

The Naked Tee is knitted based on your own measurements, but the estimation of the amount of yarn you'll need is:

S = a stomach circumference of 70-75 cm + 45 cm length: 100 g
M = a stomach circumference of 76-84 cm + 50 cm length: 125 g
L = a stomach circumference of 85-95 cm + 55 cm length:  150 g
XL = a stomach circumference of 96-107 cm + 60 cm length: 150 g
XXL = a stomach circumference of 108-120 cm + 60 cm length: 175 g
Because the tee is knitted based on your own measurements, the actual amount of yarn you'll need might differ from what is described here and will depend on the circumference of your stomach as well as the length of your upper body. Our recommendation is therefore to always buy an extra skein of yarn. This way, you can be sure that all your yarn will have the exact same colour. You will usually be able to return unopened skeins. 


NB! Cashmere feels soft and delicate against the skin. We therefore strongly urge you to follow the suggestion and use the yarn listed above. We can't guarantee that the bra won't feel itchy if you use a different kind of wool than the yarn suggested in this pattern. 


Tension
The Naked Tee is knitted in stocking stitches on a 2,5 mm needle. 
The tension is
32 sts x 60 n = 10 x 10 cm


Knitting needles and accessories
1 circular needle 2,5 mm, 40/60 cm

1 circular needle 2 mm, 40 cm

5  double pointed needles 2,5 mm 

5  double pointed needles 2 mm 

2 stitch holder cords




Alternatively, you can use a thick strand of yarn in a contrasting colour

2 stitch markers

A measuring tape

1 blunt needle to secure loose ends / sew the folded edge
Share
View full details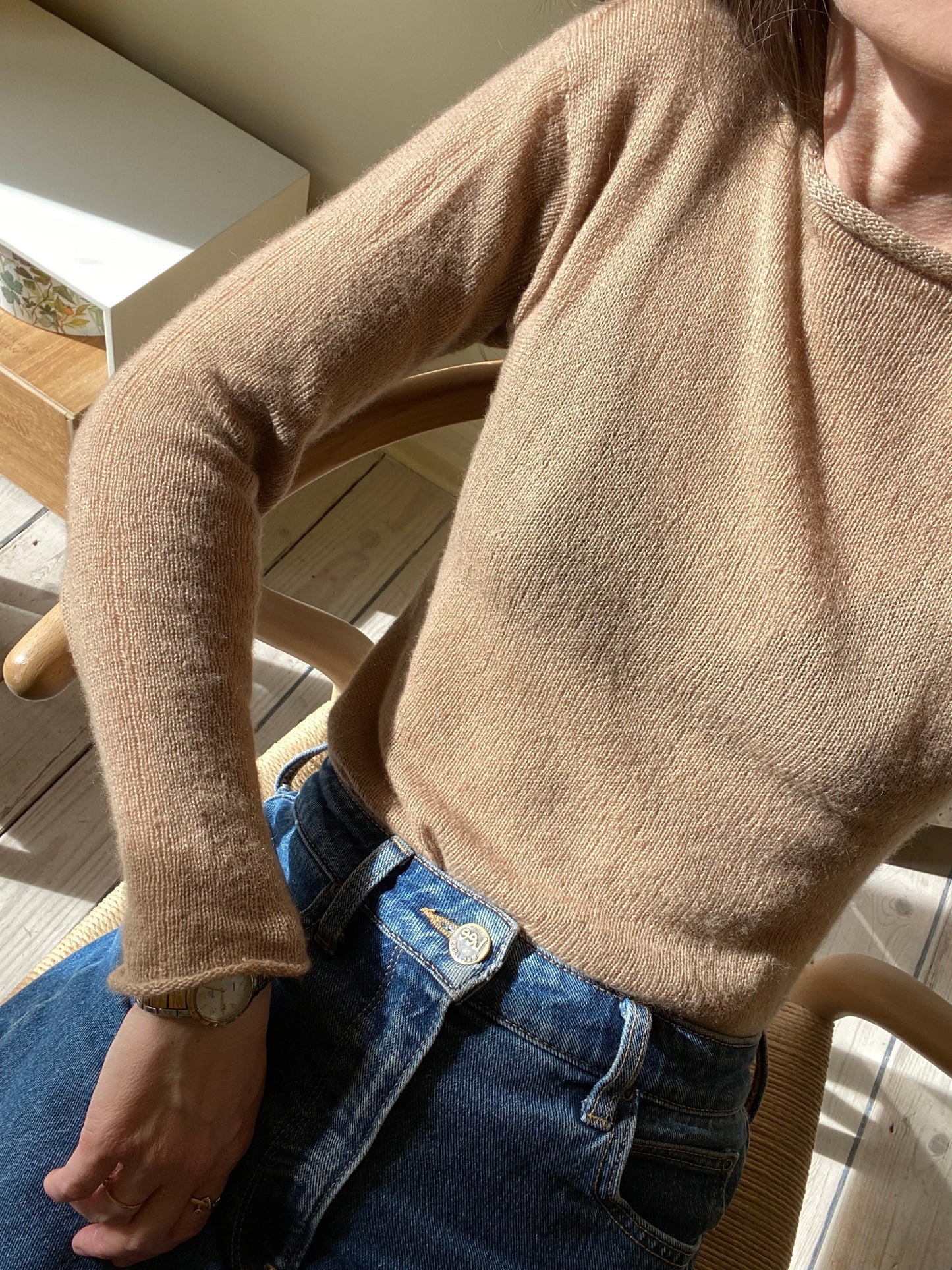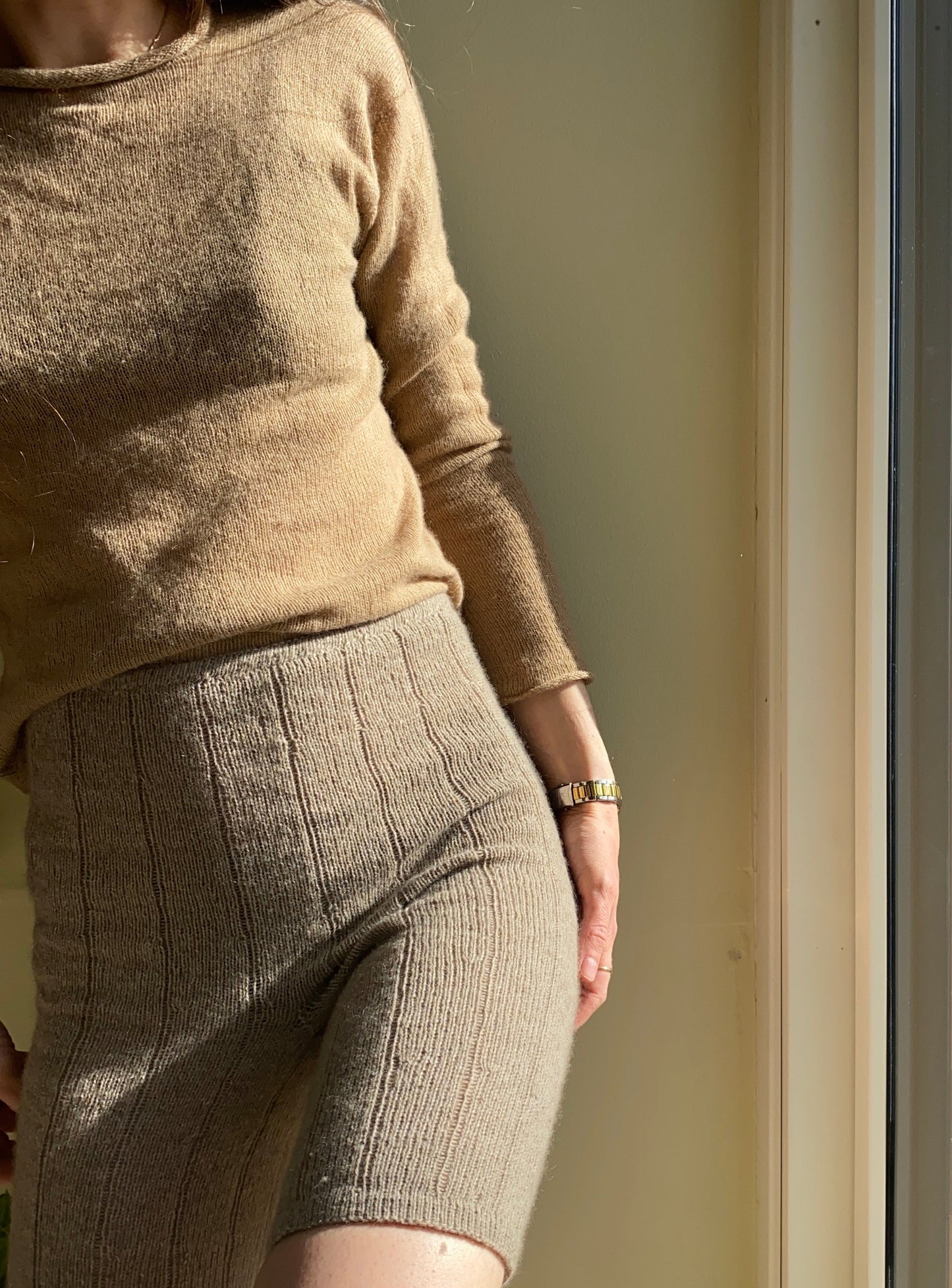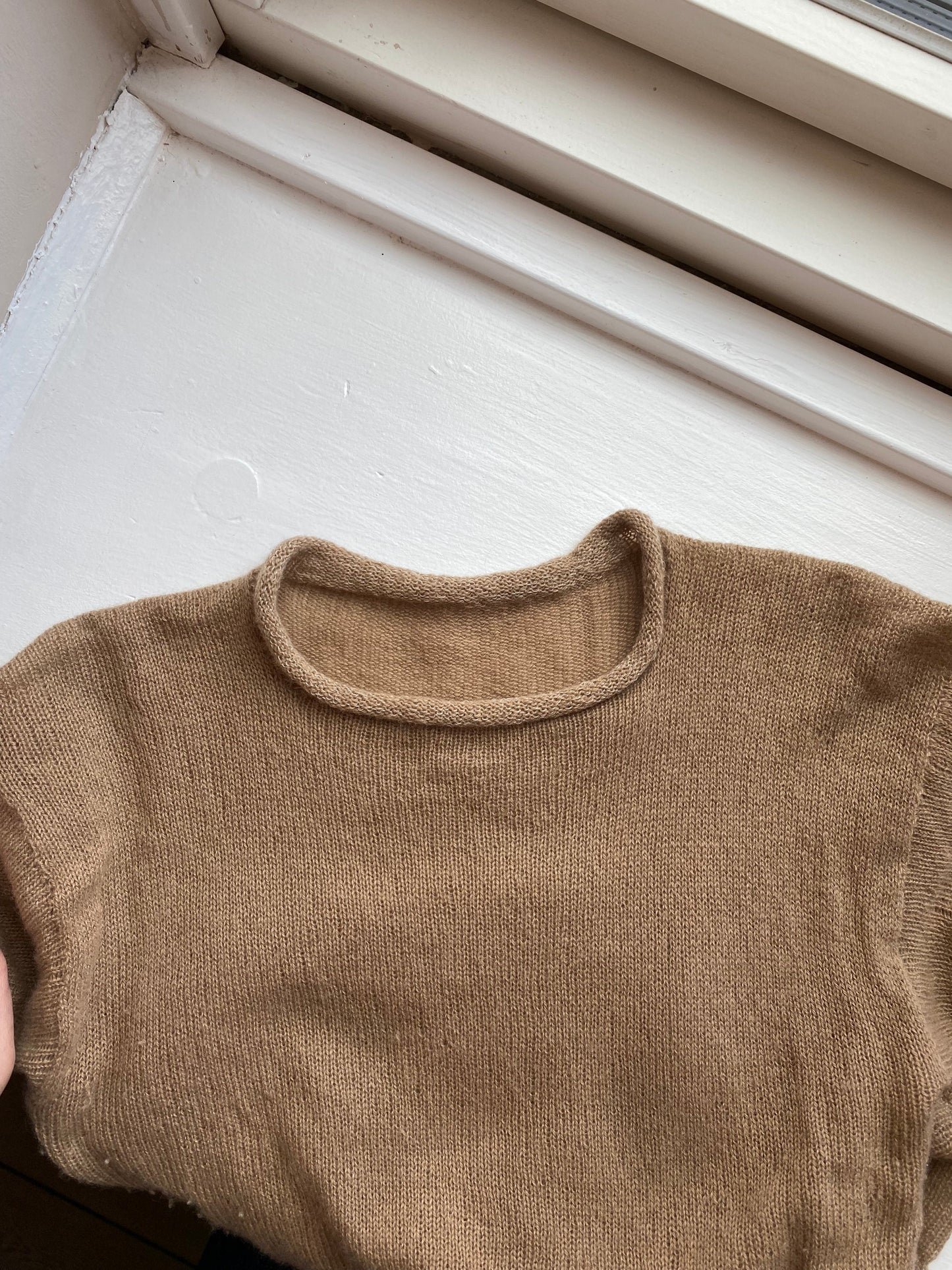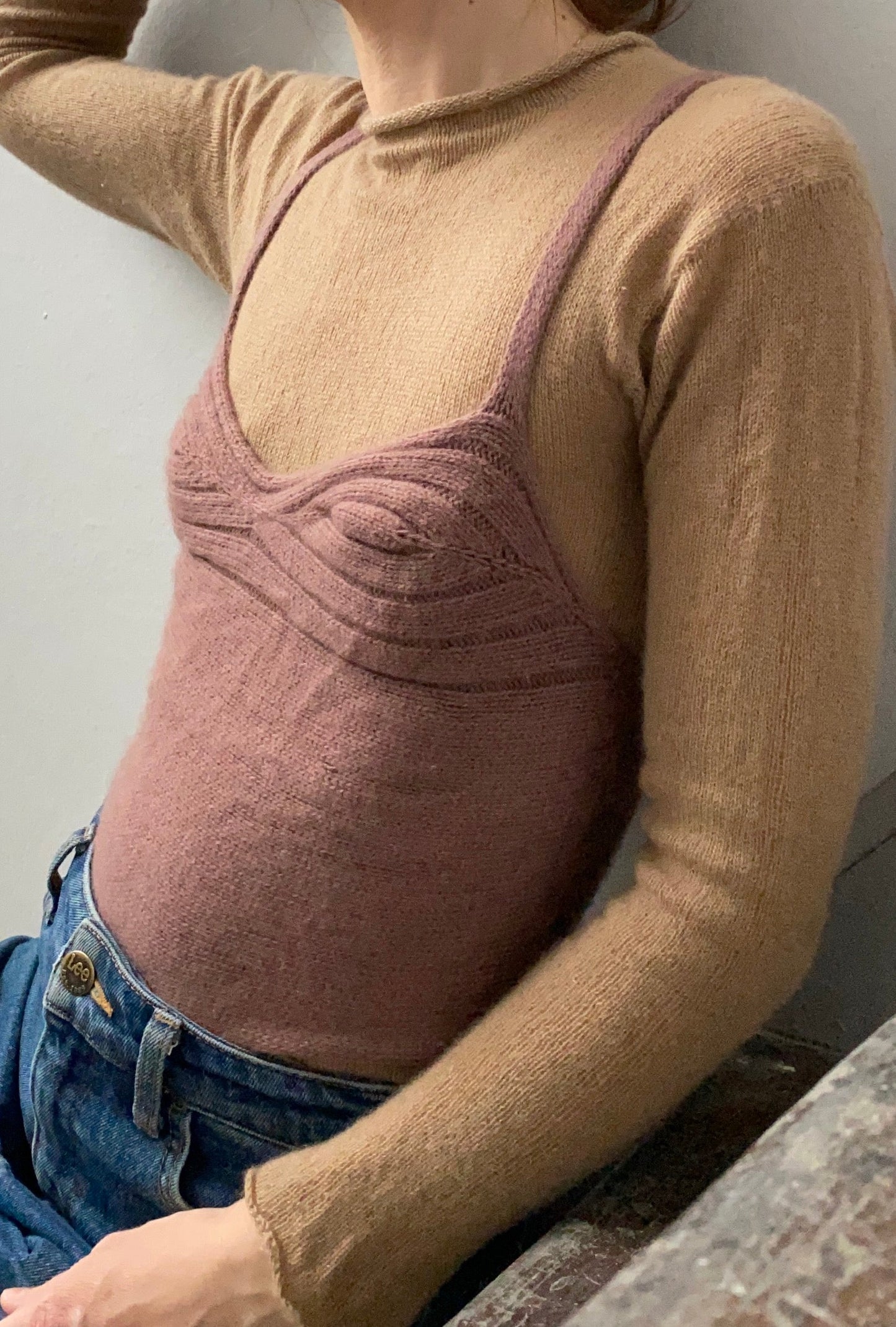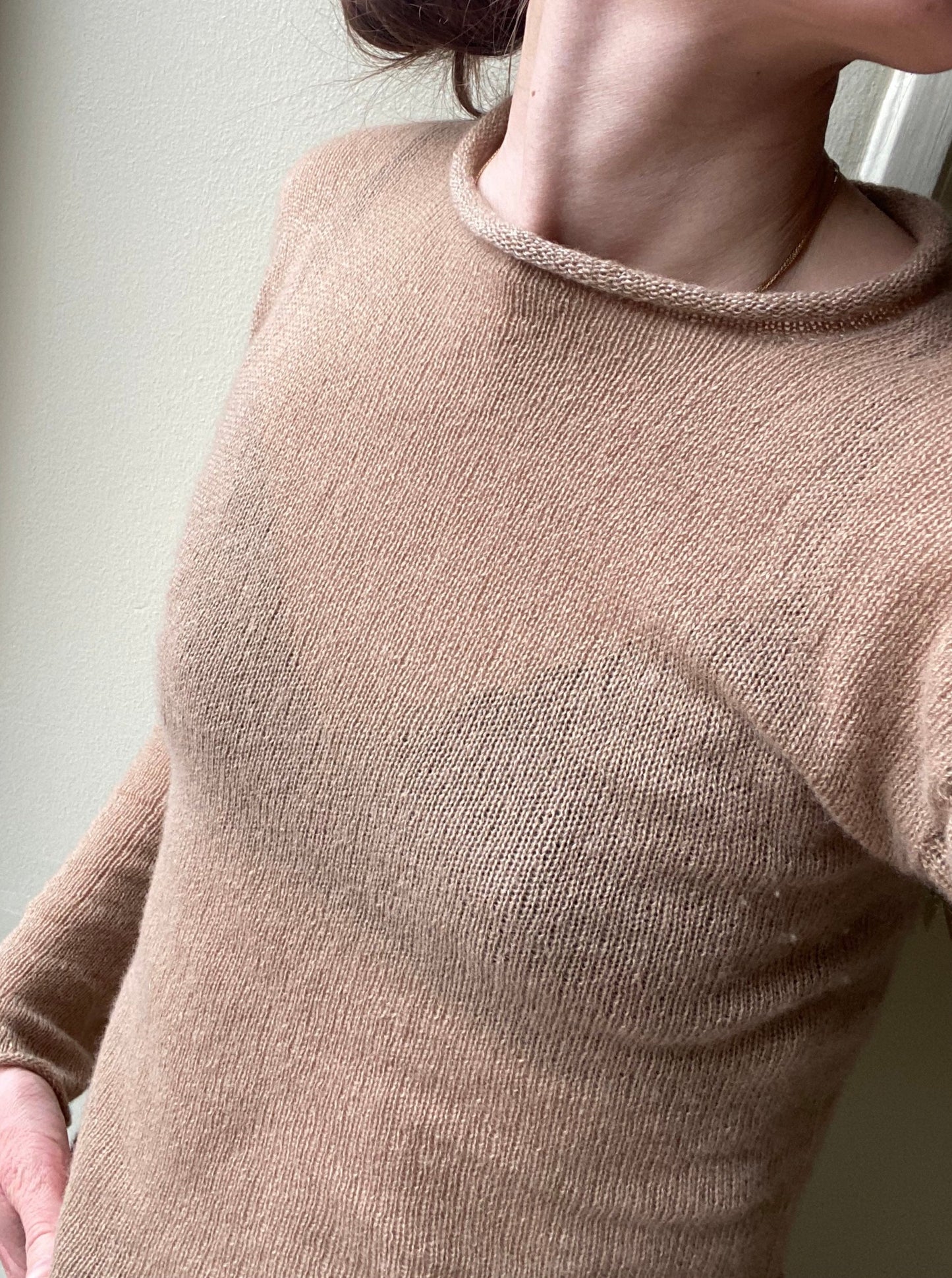 Frequently asked questions
How does the individual sizing work?

This differs from pattern to pattern, but oftentimes we ask you to measure underneath your bust and across your bust. Then we offer a calculation based on the knitting tension and this in turn tells you e.g. how many stitches you should cast on for your band. 

Other times, it's measuring the cups to your body and stopping when you feel they give the coverage you prefer. For some of our patterns we have created an Excel sheet where you simply type in your measurements and it provides you with the amount of stitches, cast-ons ect. Going forward we will optimise this and add it to more patterns. 
How much support do your bras give?

The bras give the same support as a soft, wireless bra. However there are no strap adjustments in the patterns yet, so we generally recommend you knit the straps 5-10 cm shorter than you normally would, so they can ease.
Can I knit in other types of yarn than cashmere?

Of course you can! 

We recommend cashmere because while researching many different yarn types, cashmere was the yarn that was the softest against the skin for the longest duration of time. Also cashmere on small needles tends to give a more tight knitted, elegant look, that we feel are perfect for our designs.But as long as you match the knitting tension to whatever yarn you are using, you can use whatever yarn you want. 
Do you have video tutorials for your patterns?

We share tutorials in our Instagram highlights and we have started a YouTube channel, where going forward will share a lot more tutorials and tips to your patterns. If you have any suggestions or wishes for methods or specific patterns we should do a tutorial for, please let us now atsupport@nakedknit.com