nakedknit
Regular price
Sale price
$7.00 USD
Unit price
per
Sale
Sold out
The Shell Bra es un sujetador de construcción simple, único y cómodo, para usarlo a lo largo de todo el año.
The Shell Bra se teje de lado; se empieza debajo del brazo derecho y avanza hacia el pecho derecho, el escote y después el pecho izquierdo y la pieza de la espalda. El sujetador se teje de una sola pieza
The Shell Bra se adapta a tus propias medidas de pecho en las tallas S (M) L
Nota: las tallas de este patrón son las tallas de las copas y no son equivalentes a la talla de tu ropa. Las tallas S/M/L cubren la talla de tu pecho y no la circunferencia alrededor de tu cintura o la anchura de tus hombros. Las tallas para las copas (aquí llamadas S/M/L) deberían, por lo tanto, ser determinadas de manera separada de las medidas de la parte superior de tu cuerpo. La banda de debajo del pecho y alrededor de tu espalda, así como los tirantes, se tejen según tus propias medidas durante el proceso. 
El sujetador tejido es más suave y ajustable que los sujetadores comprados p. ej. de algodón o poliéster. Así pues, nuestro objetivo es poder incluir muchos (diferentes) pechos en la amplitud de tallas S/M/L.
Antes de empezar, intenta determinar que talla de copa se ajusta mejor a tus pechos, usando las medidas proporcionadas abajo.
Talla S: altura vertical de la copa = 8-12 cm 
Talla M: altura vertical de la copa = 10-17 cm
Talla L: altura vertical de la copa = 13-24 cm
Lana
Sugerimos la siguiente lana:
nakedknit cashmere 112,  50g (50g) 75g
(112m/25g)

o

Lang Yarn Cashmere Premium, 50g (50g) 75g
(115 m/25g)
Agujas y accesorios
Agujas de tejer de 3 mm o agujas circulares cortas de 3 mm
2 agujas de doble punta de 3 mm
1 marcador
1 guarda-puntos pequeño
1 cinta métrica
Una cinta elástica ancha, altura 4cm

 

Un imperdible

 

1 tijeras
1 aguja lanera para rematar los cabos
Podrías necesitar alambre de puntos, pero también puedes usar una hebra de una lana más delgada de un color diferente.
NOTA! Solo recomendamos tejer el sujetador en Cachemir. No se puede garantizar que el sujetador no rasguñe tu piel si se teje con otras calidades a las recomendadas (o lana 100% Cachemir).
El patrón se enviará como un fichero PDF a tu correo electrónico. 
Share
View full details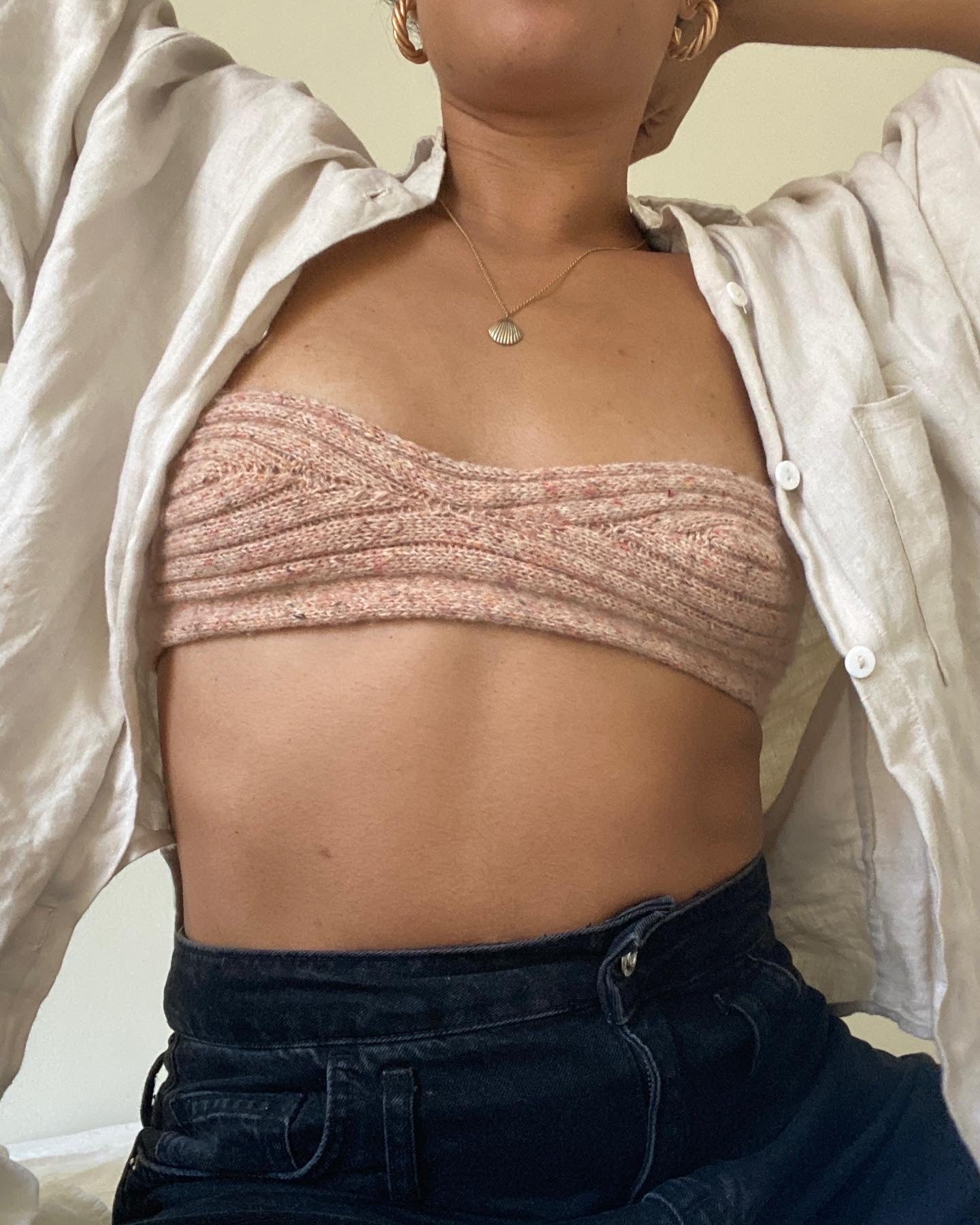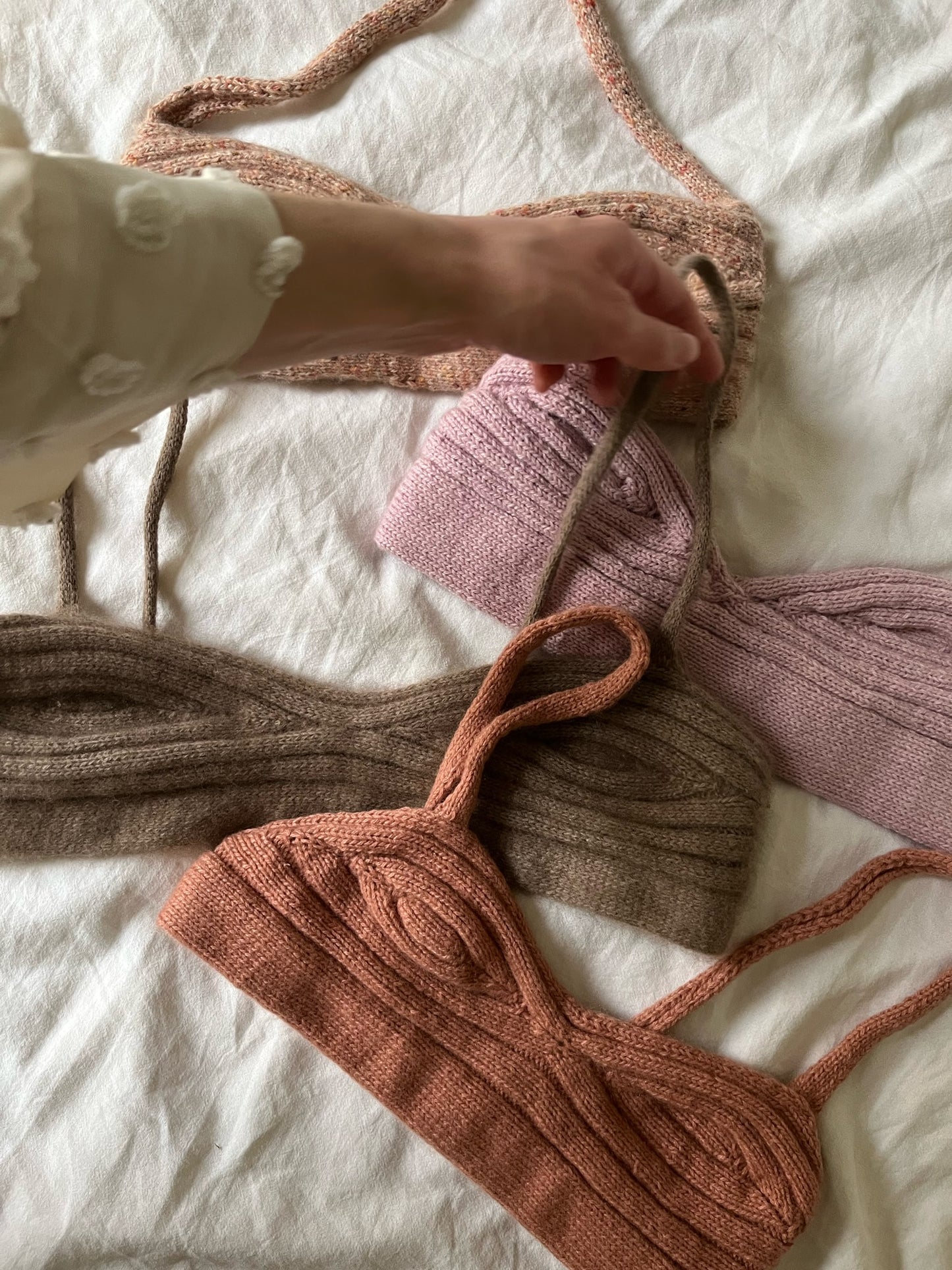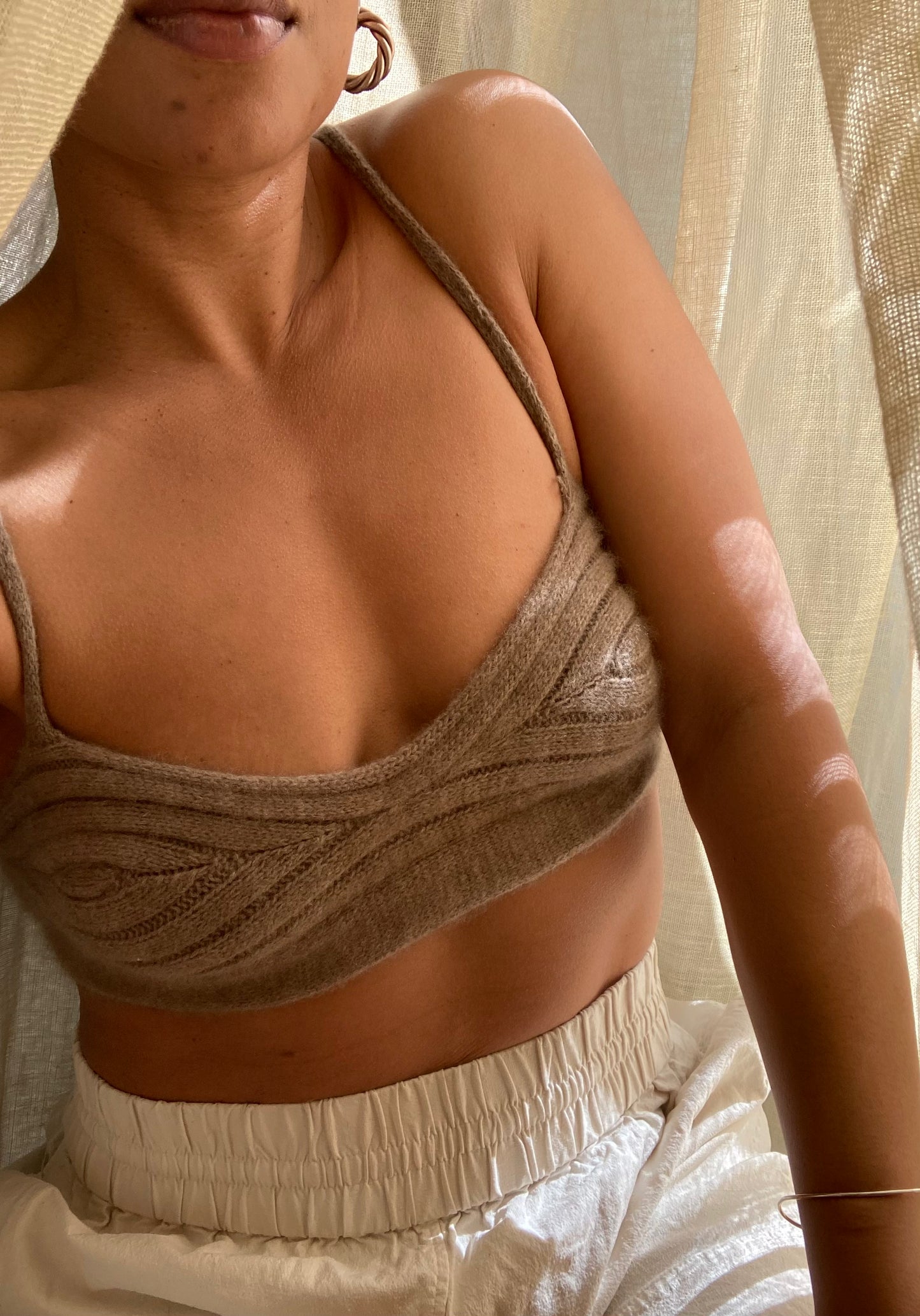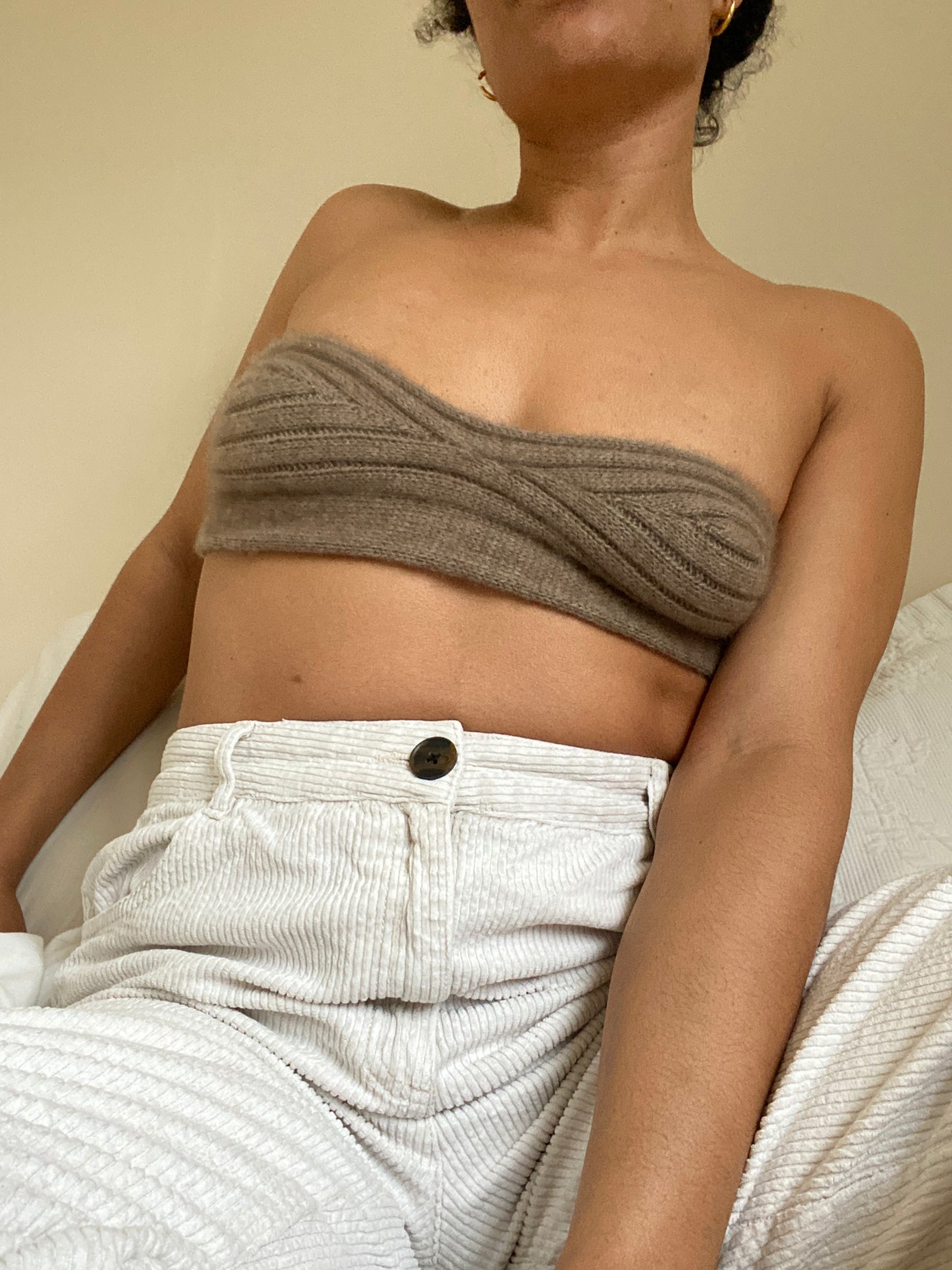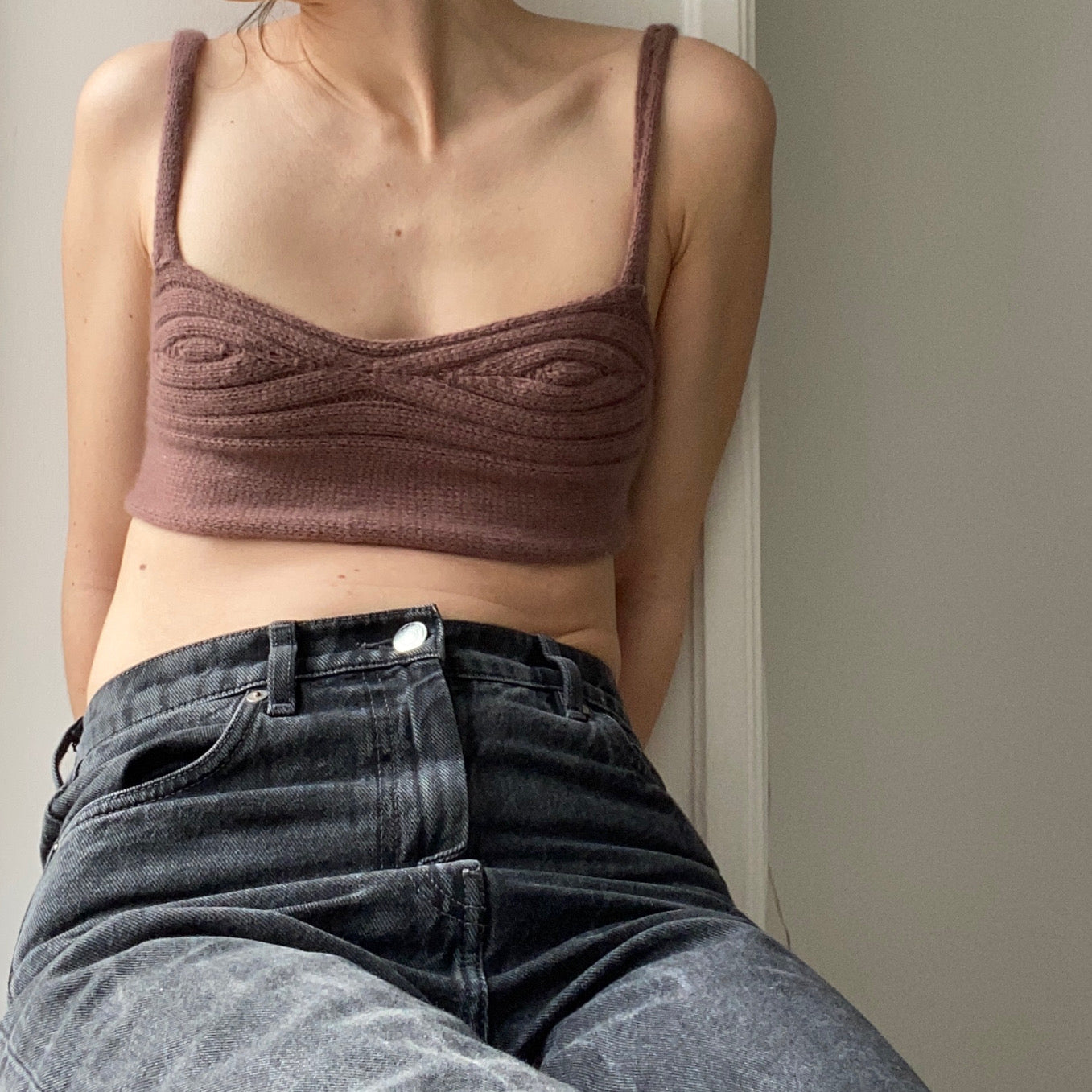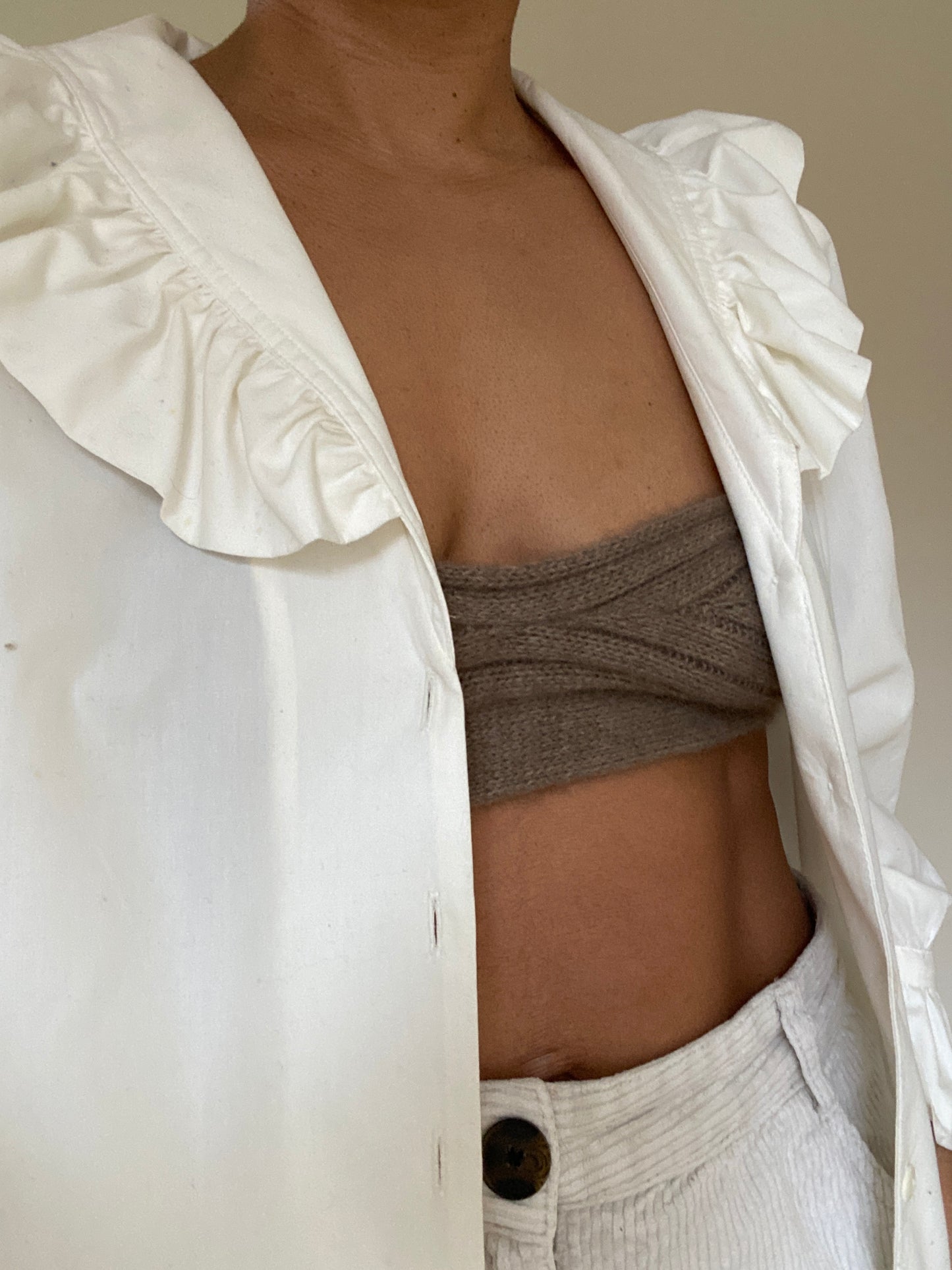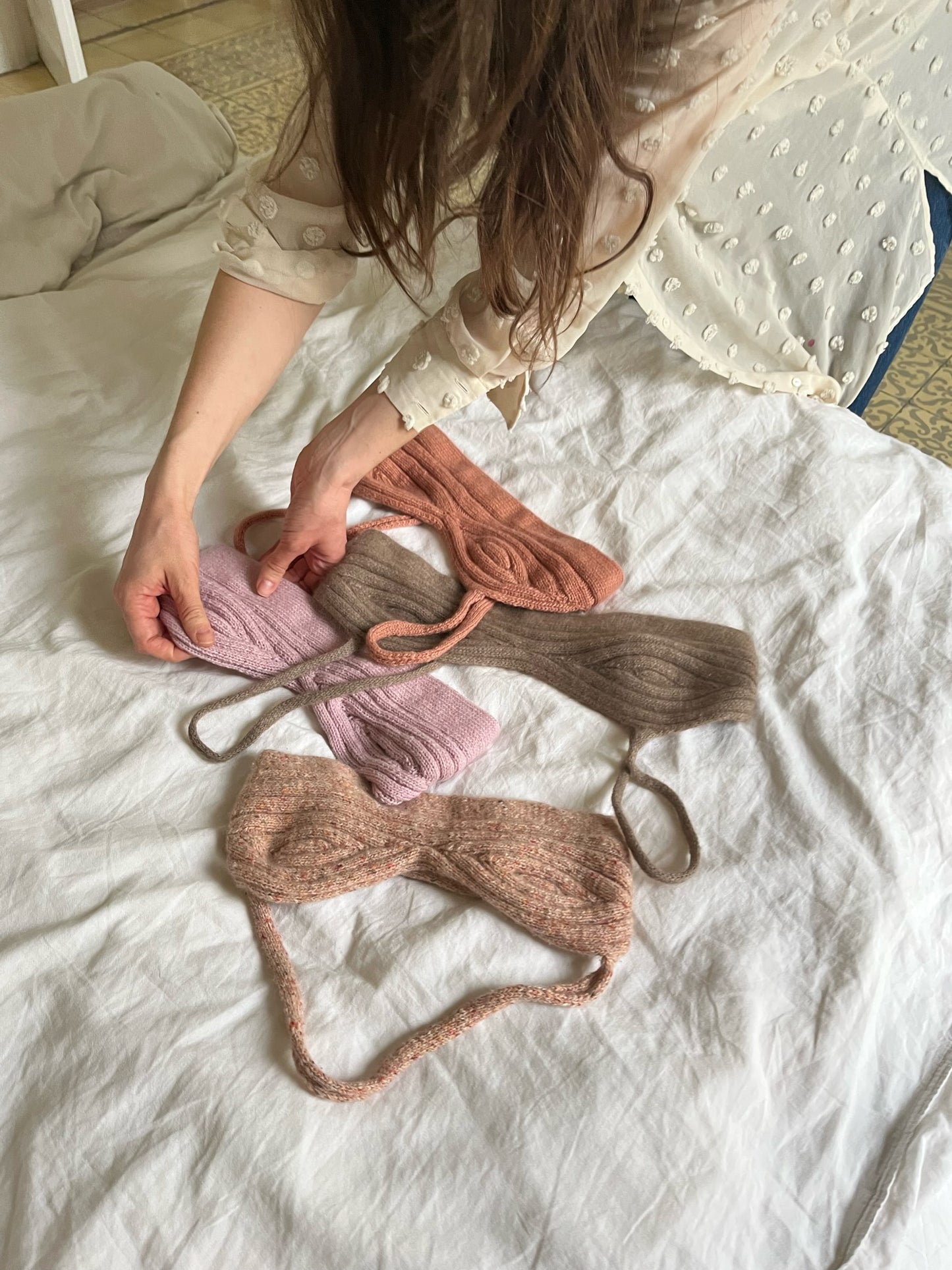 Frequently asked questions
How does the individual sizing work?

This differs from pattern to pattern, but oftentimes we ask you to measure underneath your bust and across your bust. Then we offer a calculation based on the knitting tension and this in turn tells you e.g. how many stitches you should cast on for your band. 

Other times, it's measuring the cups to your body and stopping when you feel they give the coverage you prefer. For some of our patterns we have created an Excel sheet where you simply type in your measurements and it provides you with the amount of stitches, cast-ons ect. Going forward we will optimise this and add it to more patterns. 
How much support do your bras give?

The bras give the same support as a soft, wireless bra. However there are no strap adjustments in the patterns yet, so we generally recommend you knit the straps 5-10 cm shorter than you normally would, so they can ease.
Can I knit in other types of yarn than cashmere?

Of course you can! 

We recommend cashmere because while researching many different yarn types, cashmere was the yarn that was the softest against the skin for the longest duration of time. Also cashmere on small needles tends to give a more tight knitted, elegant look, that we feel are perfect for our designs.But as long as you match the knitting tension to whatever yarn you are using, you can use whatever yarn you want. 
Do you have video tutorials for your patterns?

We share tutorials in our Instagram highlights and we have started a YouTube channel, where going forward will share a lot more tutorials and tips to your patterns. If you have any suggestions or wishes for methods or specific patterns we should do a tutorial for, please let us now atsupport@nakedknit.com