nakedknit
Regular price
Sale price
$7.00 USD
Unit price
per
Sale
Sold out
The Shell Top är en topp med samma karaktäristiska grafiska mönster som du också hittar på The Shell Bra. The Shell Top är en modifierad version, som fungerar utmärkt som ett inre värmande lager under de kallare månaderna.
Och en mjuk, luftig topp som ett yttre eller enda lager under de varmare. Hur du använder den är helt enkelt helt upp till dig. 

Toppen stickas sidledes, vilket gör det lättare att skräddarsy kuporna vad gäller längd, bredd och omfång för just dig och din kropp. De mjuka resårstickade kuporna hålls på plats tack vare en tunn resårtråd som säkrar att toppen hålls på plats. Resårtråden sys in från baksidan och är därmed osynlig.
Stickor och tillbehör
En rundsticka 3 mm

Två strumpstickor 3 mm 

En stickmarkör 

En maskhållare 

Ett måttband 

Ens ax 

En tunn resårtråd att sy in under bysten 

En stoppnål 

En flätsticka eller ett garn i en kontrasterande färg mot garnet på toppen
Garn
Vi föreslår att du använder följande garn: 
nakedknit cashmere 112,  50g (50g) 75g
(112m/25g)

eller

Lang Yarns Cashmere Premium, 50g (50g) 75g
(115 m/25g)
Tänk på!
Kashmir känns mjukt och milt mod huden. Vi rekommenderar därför starkt att du följer förslagen på garn som listas ovan. Vi kan inte garantera att toppen inte känns kliar eller sticks mot huden om du använder en annan typ av garn än det som föreslås i det här mönstret. 
Stickfastheten i det här mönstret överensstämmer inte med stickfastheten i garnet ovan. Anledningen till det är att vi har valt att sticka toppen med stickor 3 mm för en mer tätt stickad look. Stickfastheten som används i det här mönstret är: 10 cm = 29 m i slätstickning. 
Storlek S: 
Lodrätt bystmått: 8–12 cm 


Storlek M: 
Lodrätt bystmått: 10–17 cm 


Storlek L: 
Lodrätt bystmått: 13–24 cm 
Storlekar
Tänk på! 
Storlekstabellen indikerar en typ av storlek för bysten och kan skilja sig från din vanliga storlek i kläder. De beskrivna storlekarna S/M/L refererar till ditt bystomfång och inte omfånget av bröstkorgen eller bredden mellan axlarna. Byststorlekarna (beskrivna som S/M/L) bör därför ses som beskrivande för din byst, separat från dina generella mått på överkroppen. Bandet över bröstkorgen samt banden kommer att anpassas under arbetets gång och skräddarstickade utefter din kropp. 
Bredden av varje kupa kommer att bli skräddarstickad utefter din individuella byst och själva tillvägagångssättet kommer att beskrivas i instruktionerna. Det kan vara till stor hjälp att mäta din byst innan du bestämmer dig för vilken storlek du ska sticka för att vara säker på att det blir rätt för just dig. 
Share
View full details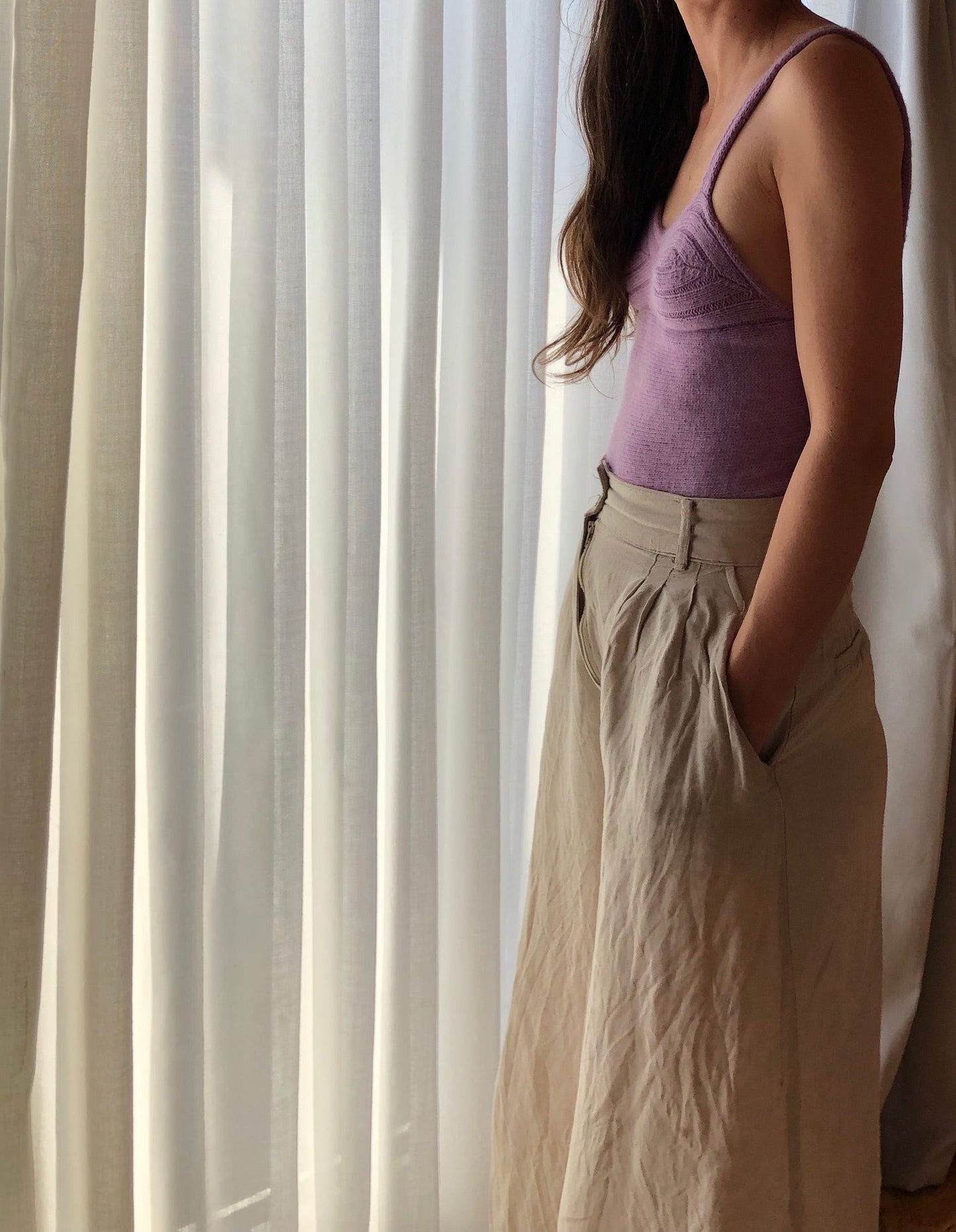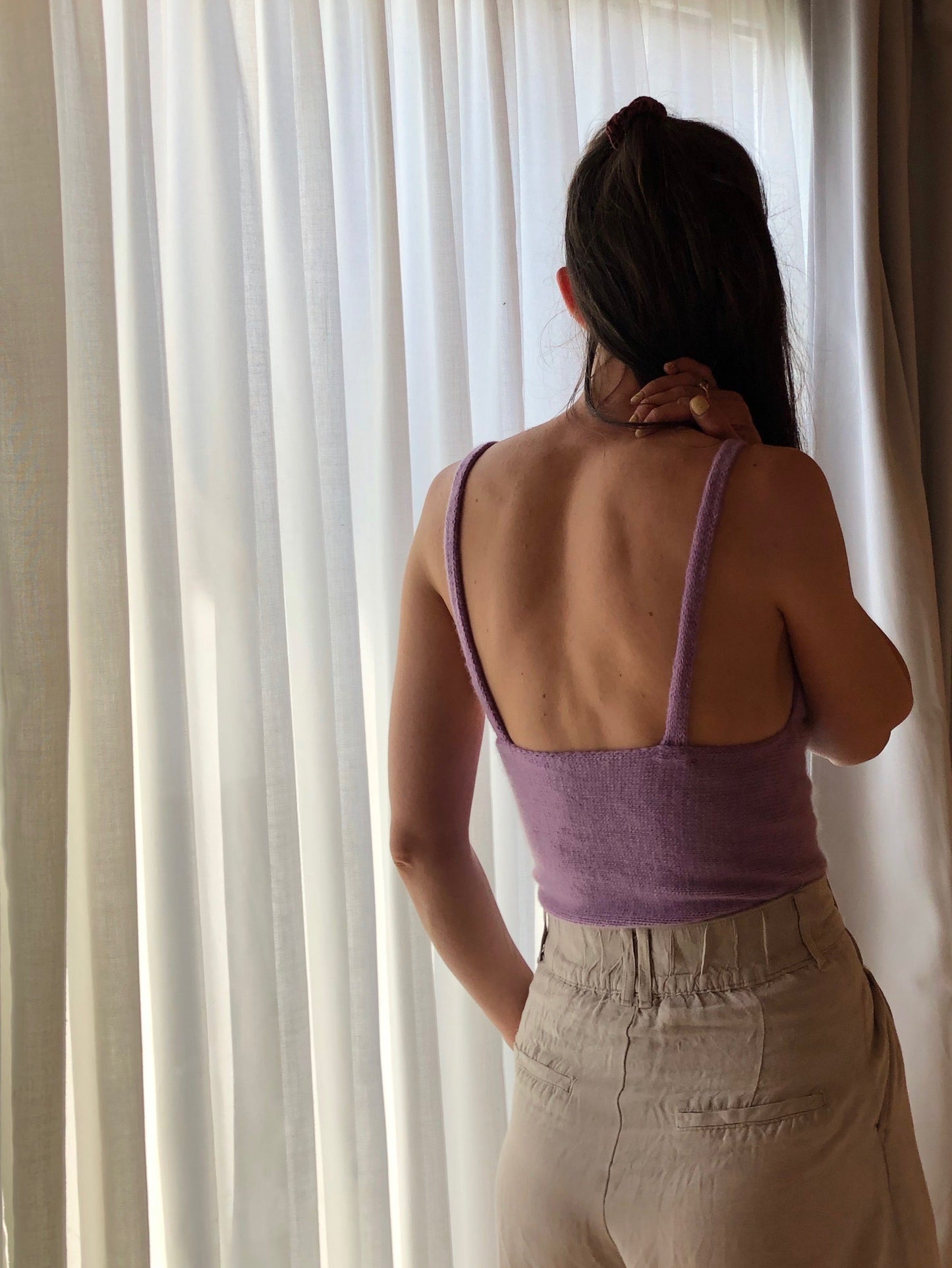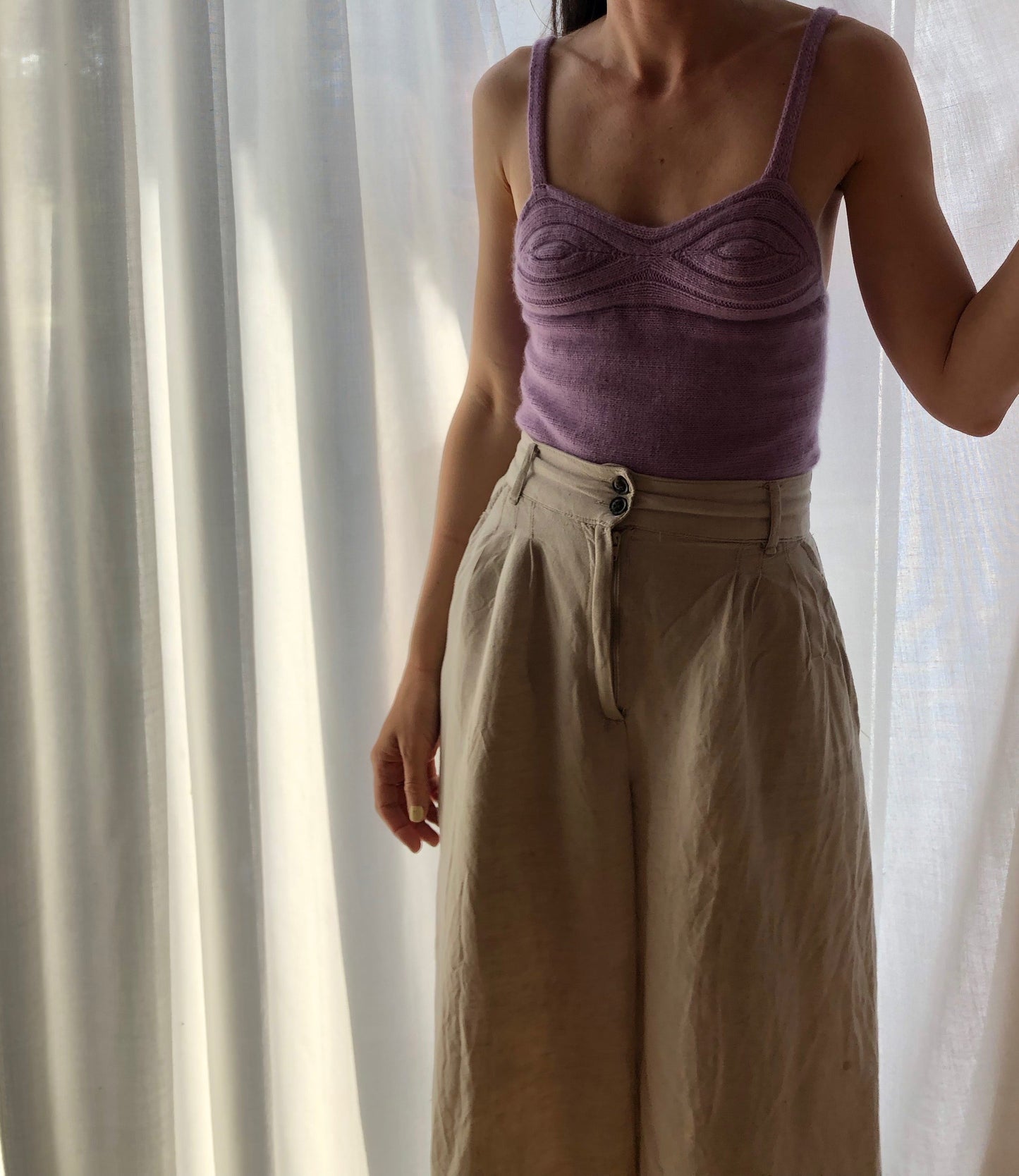 Frequently asked questions
How does the individual sizing work?

This differs from pattern to pattern, but oftentimes we ask you to measure underneath your bust and across your bust. Then we offer a calculation based on the knitting tension and this in turn tells you e.g. how many stitches you should cast on for your band. 

Other times, it's measuring the cups to your body and stopping when you feel they give the coverage you prefer. For some of our patterns we have created an Excel sheet where you simply type in your measurements and it provides you with the amount of stitches, cast-ons ect. Going forward we will optimise this and add it to more patterns. 
How much support do your bras give?

The bras give the same support as a soft, wireless bra. However there are no strap adjustments in the patterns yet, so we generally recommend you knit the straps 5-10 cm shorter than you normally would, so they can ease.
Can I knit in other types of yarn than cashmere?

Of course you can! 

We recommend cashmere because while researching many different yarn types, cashmere was the yarn that was the softest against the skin for the longest duration of time. Also cashmere on small needles tends to give a more tight knitted, elegant look, that we feel are perfect for our designs.But as long as you match the knitting tension to whatever yarn you are using, you can use whatever yarn you want. 
Do you have video tutorials for your patterns?

We share tutorials in our Instagram highlights and we have started a YouTube channel, where going forward will share a lot more tutorials and tips to your patterns. If you have any suggestions or wishes for methods or specific patterns we should do a tutorial for, please let us now atsupport@nakedknit.com