nakedknit
Regular price
Sale price
$6.00 USD
Unit price
per
Sale
Sold out
The Siv Slippers er en tøffel som er inspirert av de historiske danske sivskoene.
I motsetning til sivskoene er The Siv Slippers strikket i et mykt og varmt sokkegarn, men de har den likheten at begge er laget i et tykt, flettet mønster som gir en en fin form, merkbar isolerende effekt og det karakteristiske utseende.
Fiskebensmønstret er enkelt å lære, og når du først er inne i det, og med de store pinnene tøflene strikkes på, er The Siv Slippers både raske og enkle å strikke. Tøflene sys til slutt sammen med en elegant overlapping foran.
 

Garn
1 Faden Gepard Cashsock Chunky, 100 g / 183 m


oder


2 Faden Lang Yarns Alpaca Soxx (4 ply), 100g / 390m
The Siv Slippers werden aus Sockengarn mit Kaschmir gestrickt, für ein weiches und strapazierfähiges Finish. Das Modell wird im Fischgrätenmuster gestrickt. Die Maschenprobe ergibt auf 7 mm Nadeln im Fischgrätmuster 10 x 10 cm = 20 R x 25 M
Hinweis: Wenn die Hausschuhe mit der oben erwähnten Maschenprobe gestrickt werden, sollen sie eng anliegen, da sich diese mit der Zeit (und dem Tragen) etwas weiten. Daher werden sie sich eher etwas zu klein anfühlen, wenn sie frisch fertig gestrickt sind, aber sie werden etwas weiter werden und sich an die Form des Fußes anpassen.


Größe, Garn und Maße
Stricknadeln und Zubehör 
Nadelspiel oder Rundstricknadel 7 mm (Länge ist nicht wichtig)

Maßband

Schere

Nähnadel zum Vernähen der Enden

2 Maschenhalter oder Maschenhalterseile

Zwei Nadeln aus einem Nadelspiel, die kleiner als 7 mm sind

Ein Gummiband, das an das obere Ende der Hausschuhe genäht wird, um den perfekten Halt zu sichern
Share
View full details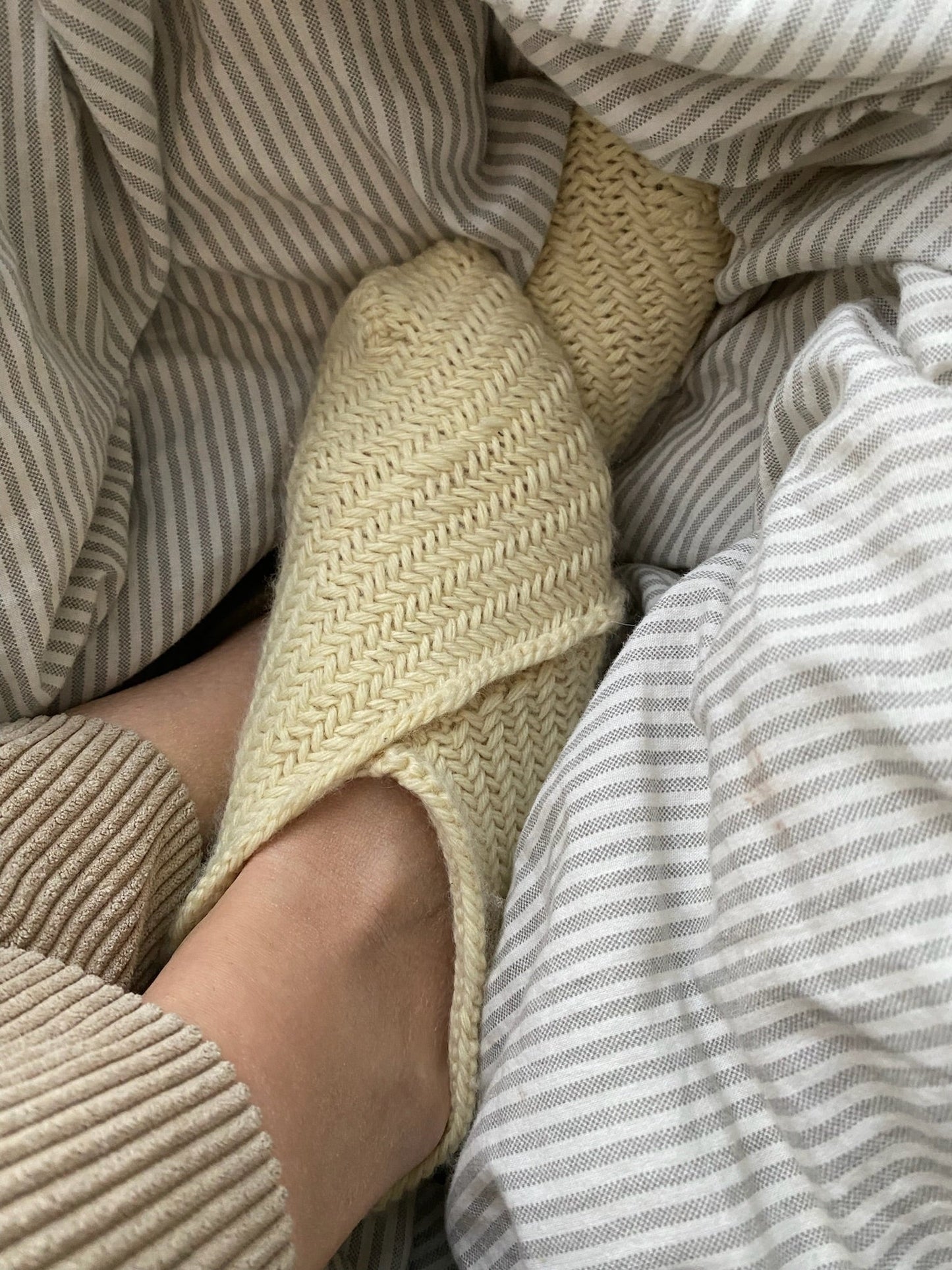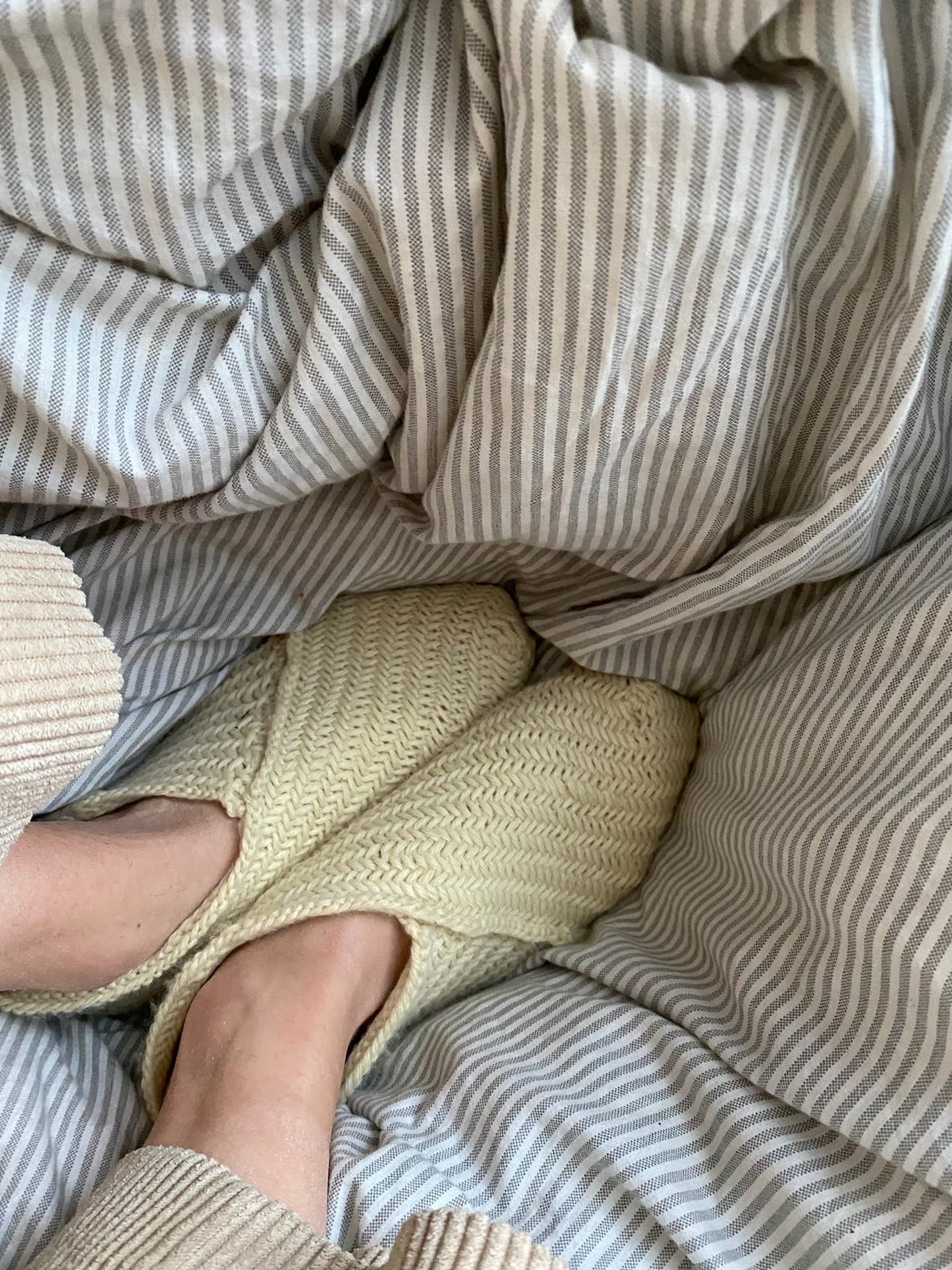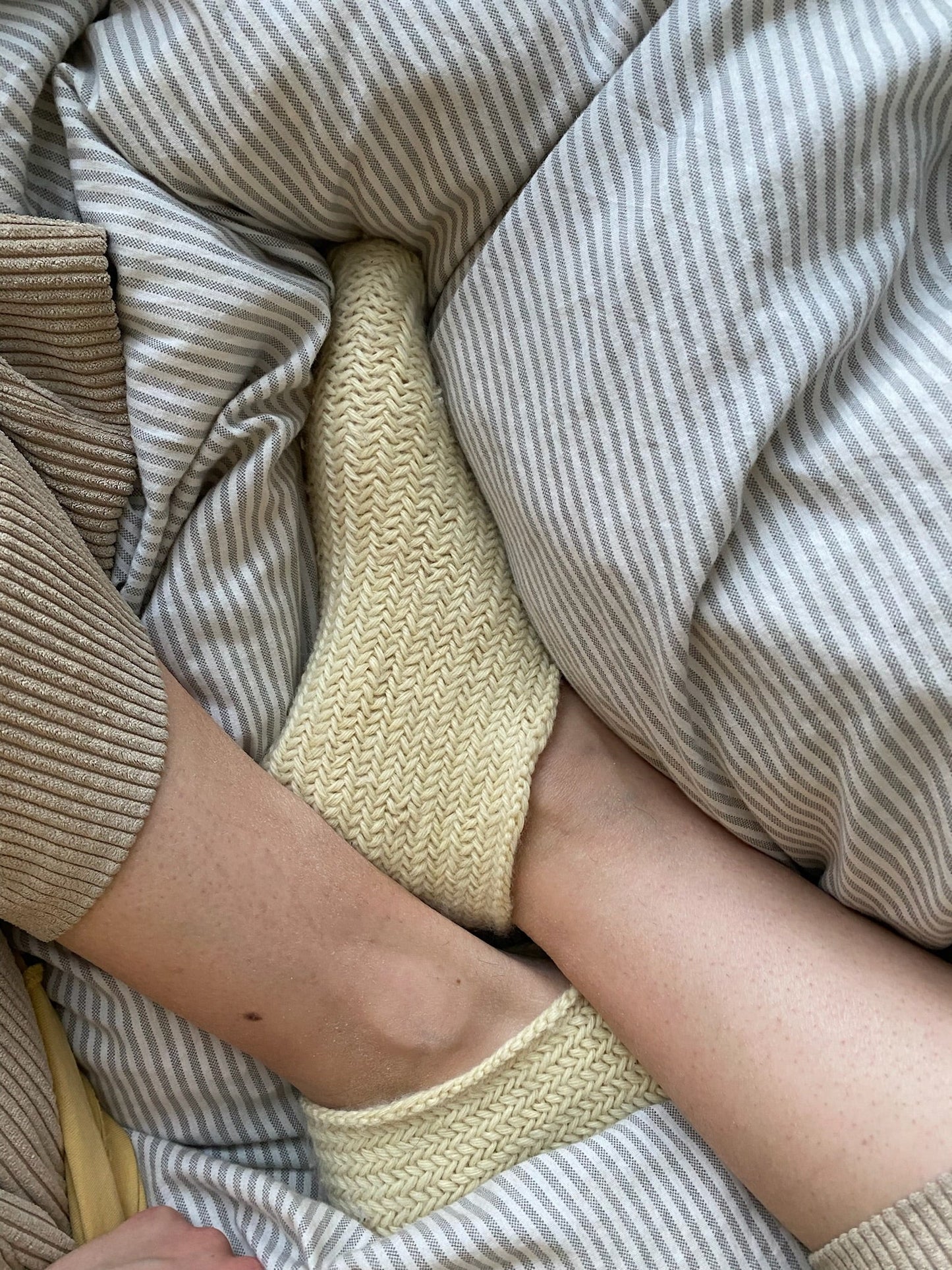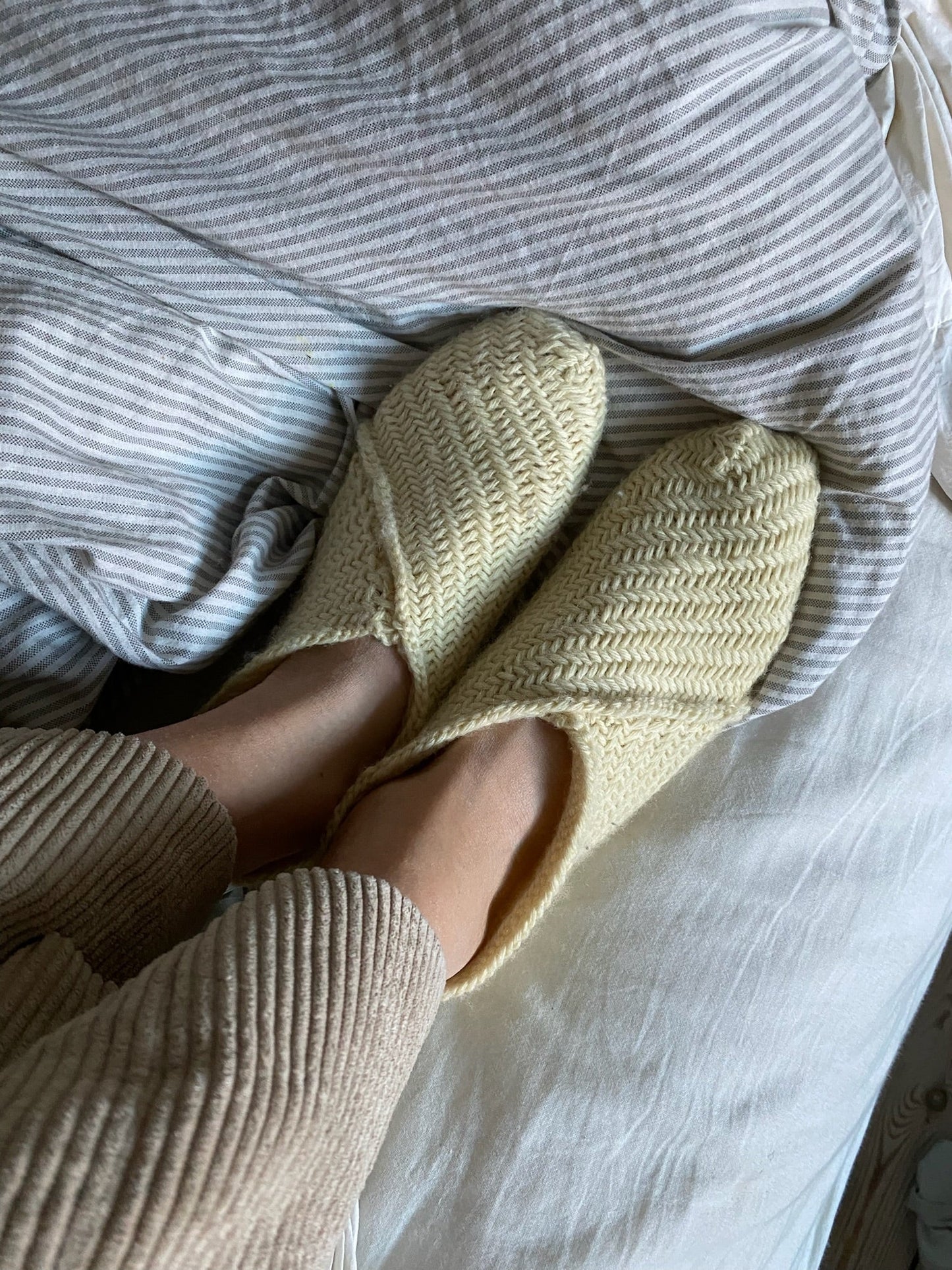 Frequently asked questions
How does the individual sizing work?

This differs from pattern to pattern, but oftentimes we ask you to measure underneath your bust and across your bust. Then we offer a calculation based on the knitting tension and this in turn tells you e.g. how many stitches you should cast on for your band. 

Other times, it's measuring the cups to your body and stopping when you feel they give the coverage you prefer. For some of our patterns we have created an Excel sheet where you simply type in your measurements and it provides you with the amount of stitches, cast-ons ect. Going forward we will optimise this and add it to more patterns. 
How much support do your bras give?

The bras give the same support as a soft, wireless bra. However there are no strap adjustments in the patterns yet, so we generally recommend you knit the straps 5-10 cm shorter than you normally would, so they can ease.
Can I knit in other types of yarn than cashmere?

Of course you can! 

We recommend cashmere because while researching many different yarn types, cashmere was the yarn that was the softest against the skin for the longest duration of time. Also cashmere on small needles tends to give a more tight knitted, elegant look, that we feel are perfect for our designs.But as long as you match the knitting tension to whatever yarn you are using, you can use whatever yarn you want. 
Do you have video tutorials for your patterns?

We share tutorials in our Instagram highlights and we have started a YouTube channel, where going forward will share a lot more tutorials and tips to your patterns. If you have any suggestions or wishes for methods or specific patterns we should do a tutorial for, please let us now atsupport@nakedknit.com