nakedknit
Regular price
Sale price
$6.00 USD
Unit price
per
Sale
Sold out
The Sol Bra er en enkel, klassisk bh som er formet som en bikini.
Oppbygningen av skålene er enkel, med mange forskjellige muligheter å velge mellom når det kommer til hvordan du vil strikke både stroppene og båndet rundt brystkassen.

Avhengig av hvilket garn du velger når du strikker The Sol Bra, og hvilke stropper du velger, kan den brukes som bikini på stranden, som en behagelig bh eller som en dekorativ topp i de varme månedene.
The Sol Bikini strikkes ovenfra og ned. Først strikkes det to trekanter til bysten. De to strikkes separat og ved hjelp av økninger og båndet rundt brystkassen dobbeltstrikkes inntil det har den ønskede lengden og monteres deretter på skålene.
Til slutt plukker du opp masker til stroppene og strikker dem i den lengden og stilen som akkurat du har lyst til. Det kan f.eks. være justerbare stropper, monterte stropper på båndet eller som halterneck.
Solen strikkes etter din individuelle størrelse, men en estimert garnbruk basert på S (M) L (XL) XXL er skrevet nedenfor.
Garn

Vi foreslår følgende garn
nakedknit Cashmere 170, 170 m/25 g
25 g (25 g) 50 g (50 g) 75 g

eller

Lang Yarns Cashmere Lace, 165 m/25 g
25 g (25 g) 50 g (50 g) 75 g

eller

Lang Yarns Marisa, 210 m/50 g
25 g (25 g) 50 g (50 g) 75 g
(med dette garnet anbefaler vi å bruke en pinne på 2,5 mm)

The Sol Bra strikkes på en 3,5 mm pinne og strikkefastheten er: 10 cm =28 m

Pinner og tilbehør
1 rundpinne str. 3,5 mm, 60 cm
2 strømpepinner str. 3,5 mm
1 maskeholder
1 målebånd
1 maskemarkør eller sikkerhetsnål
1 saks
1 maskeholder-tråd
1 butt nål til å feste garnendene
Share
View full details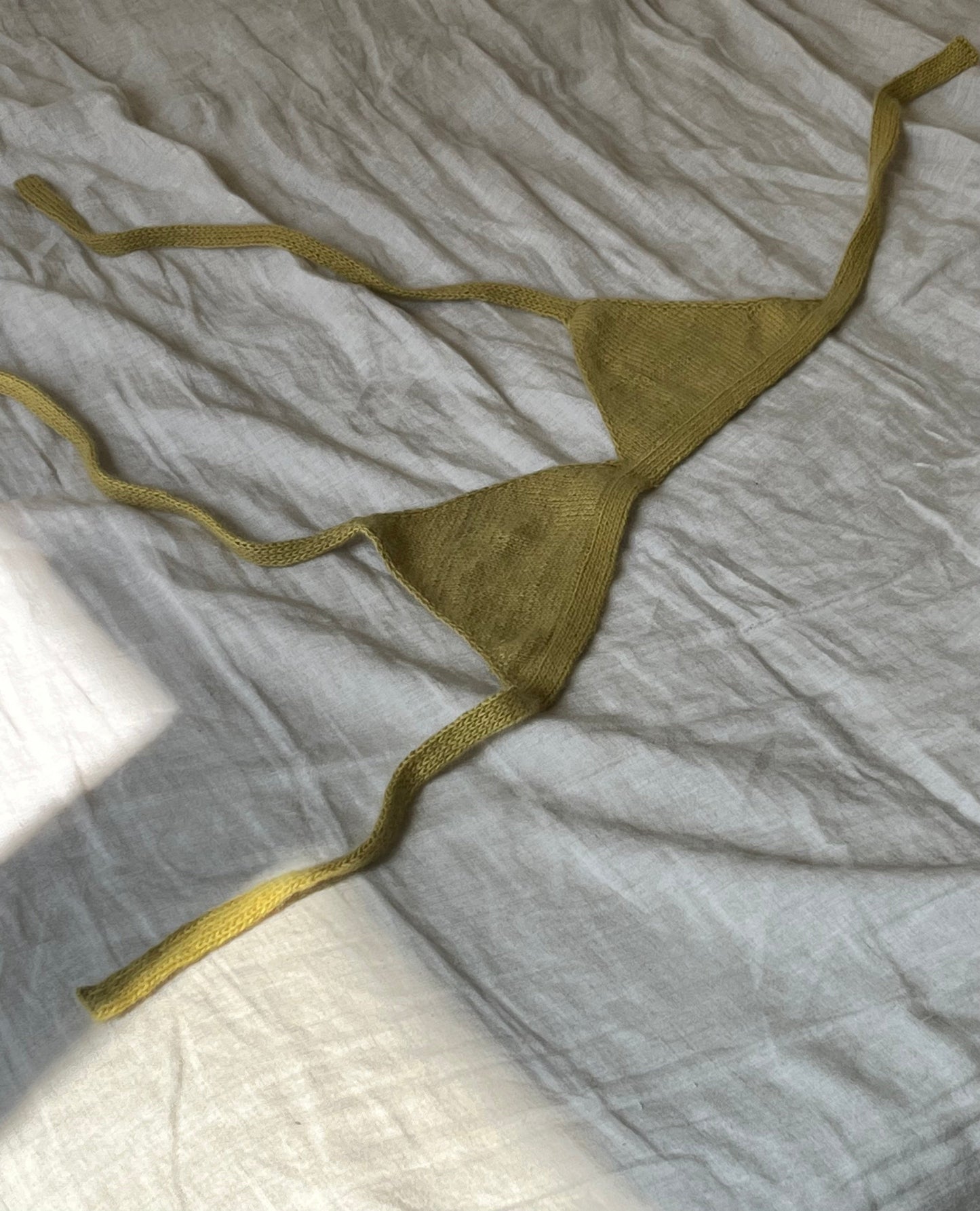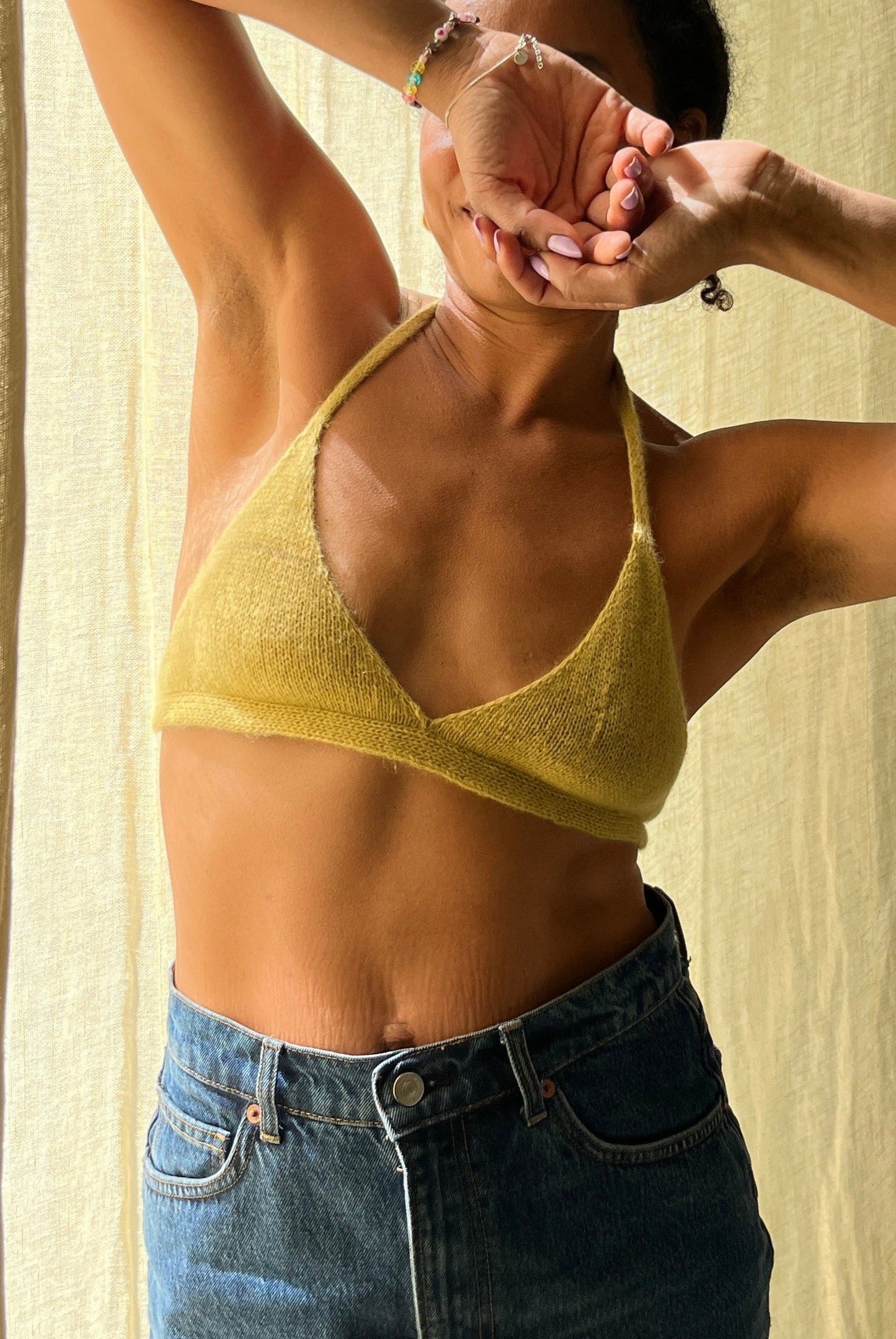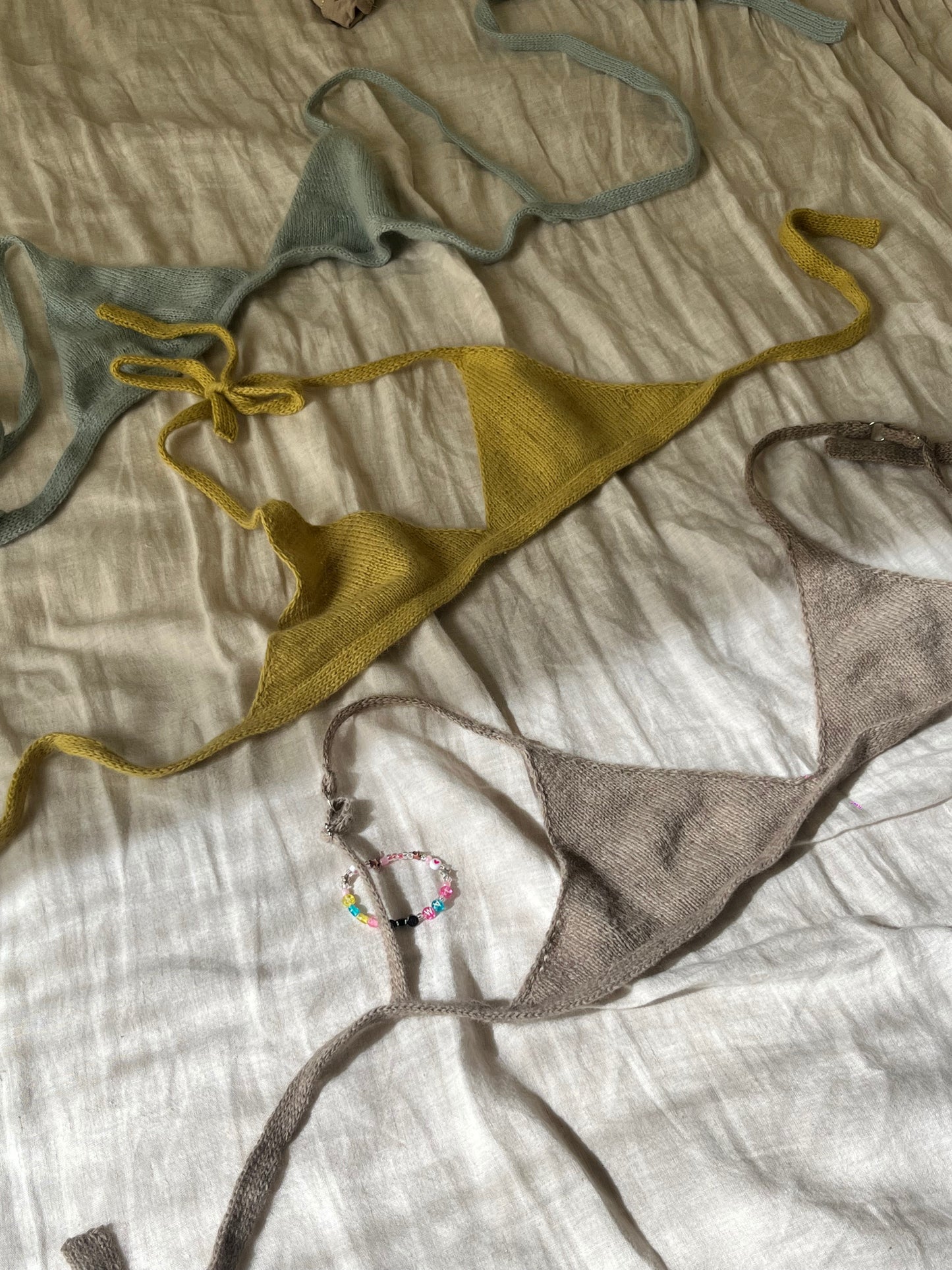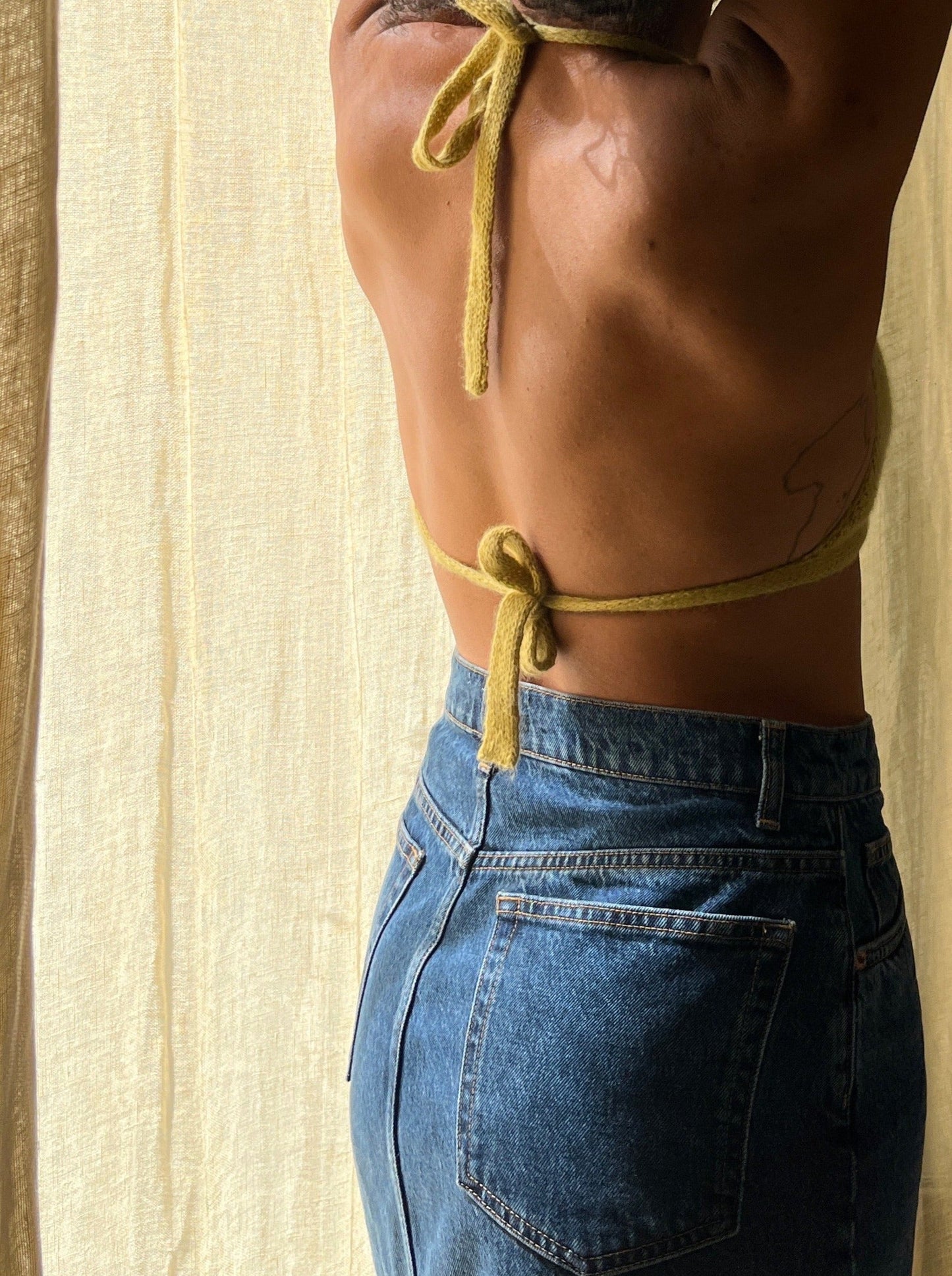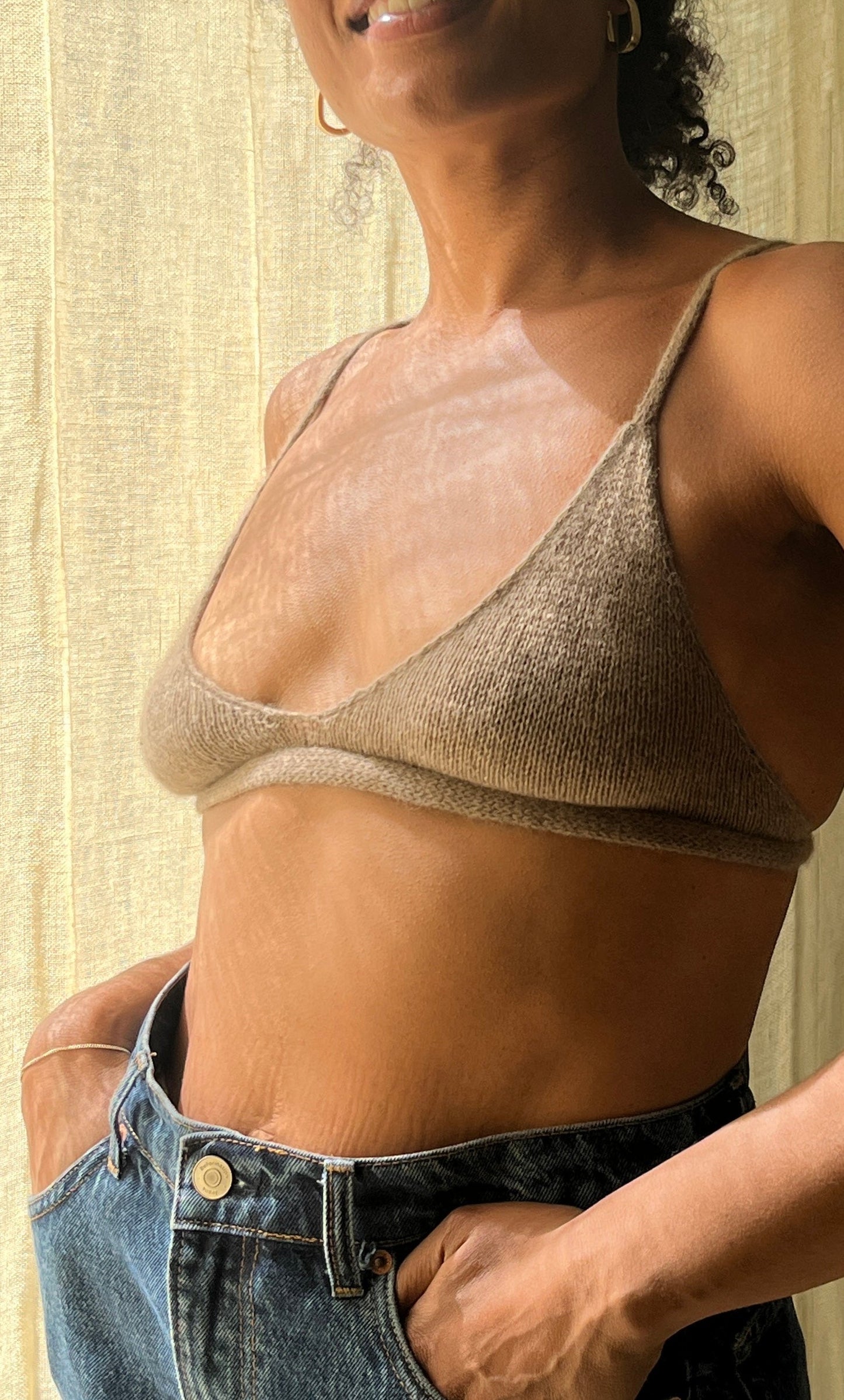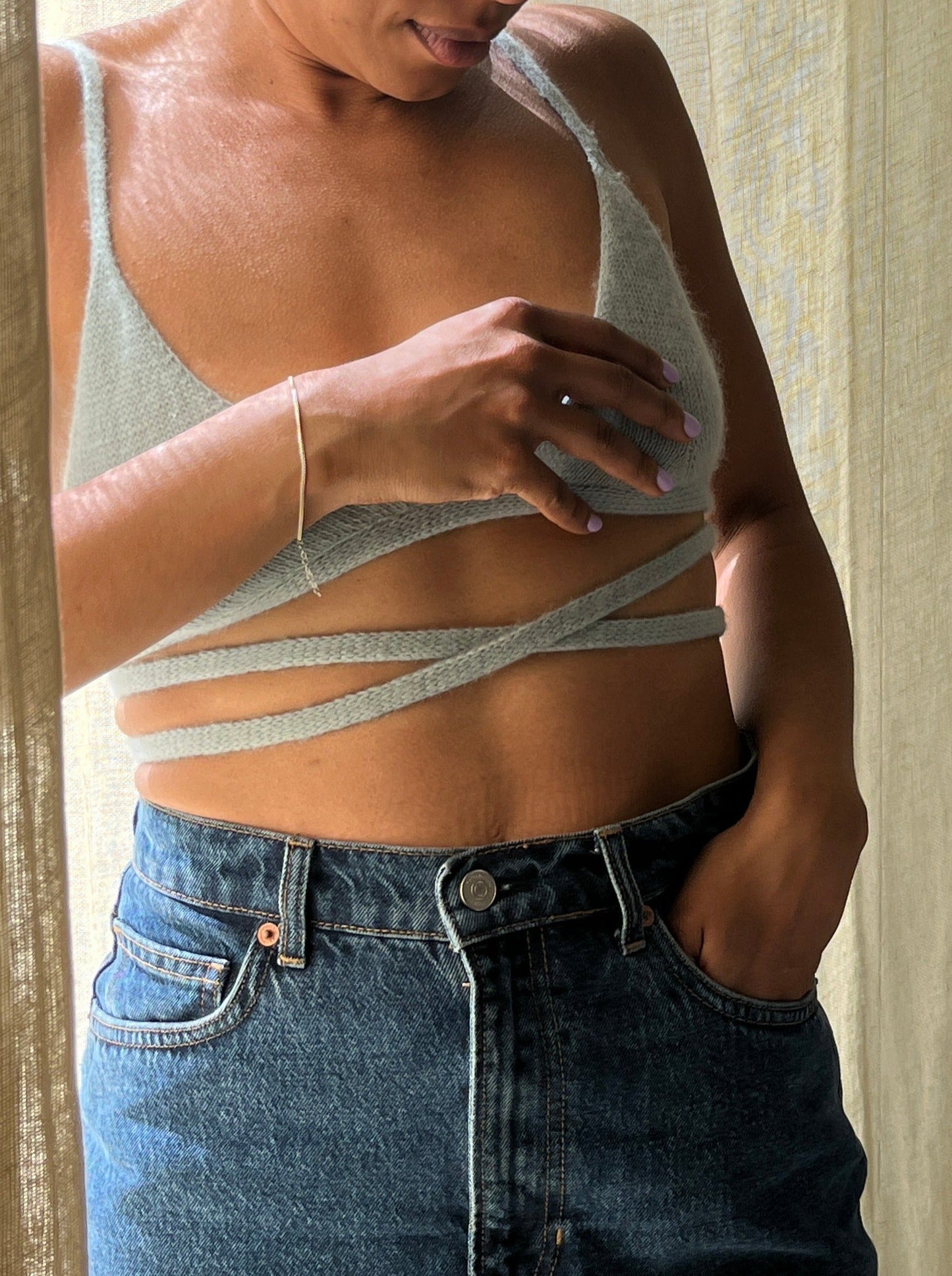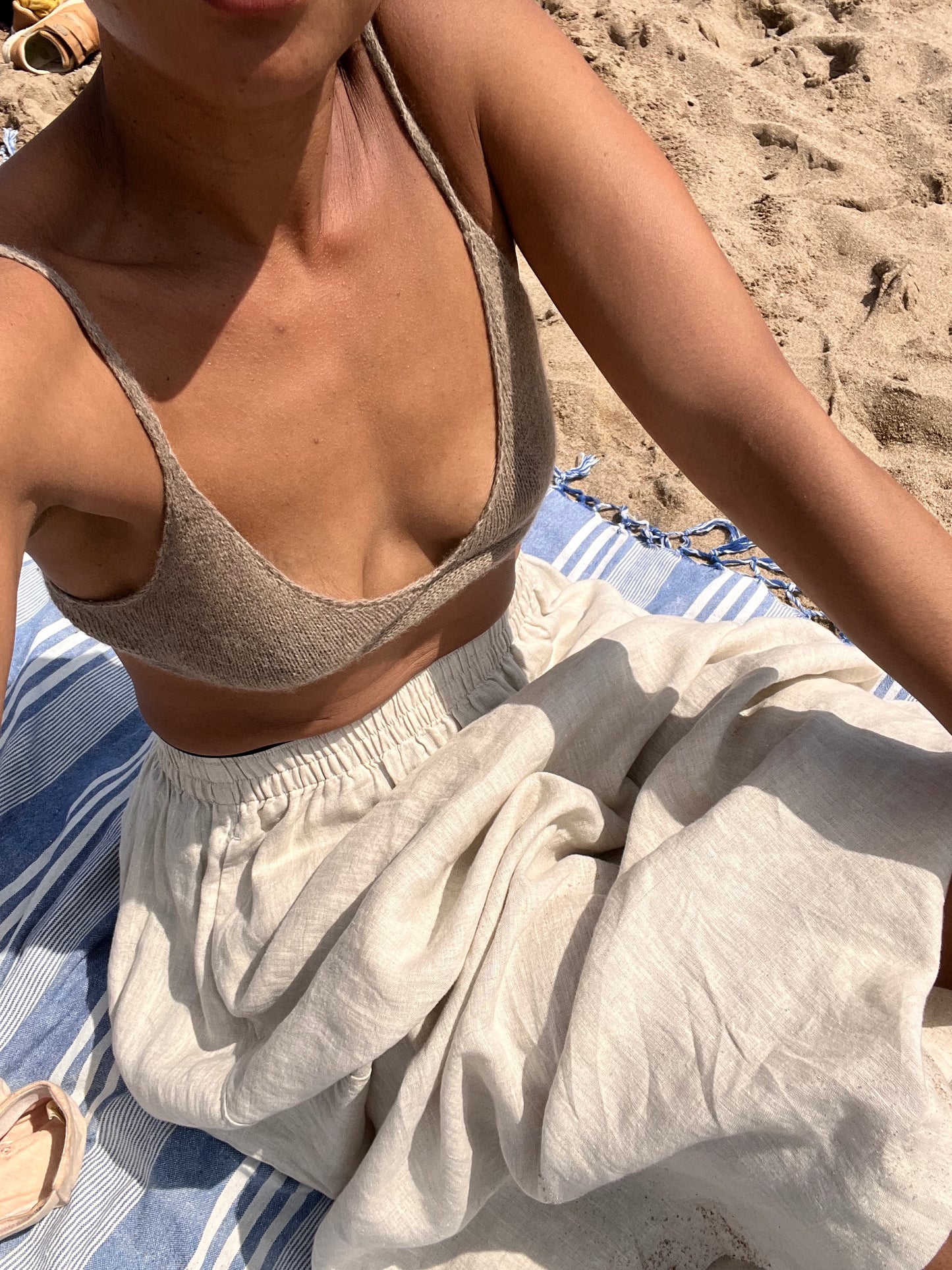 Frequently asked questions
How does the individual sizing work?

This differs from pattern to pattern, but oftentimes we ask you to measure underneath your bust and across your bust. Then we offer a calculation based on the knitting tension and this in turn tells you e.g. how many stitches you should cast on for your band. 

Other times, it's measuring the cups to your body and stopping when you feel they give the coverage you prefer. For some of our patterns we have created an Excel sheet where you simply type in your measurements and it provides you with the amount of stitches, cast-ons ect. Going forward we will optimise this and add it to more patterns. 
How much support do your bras give?

The bras give the same support as a soft, wireless bra. However there are no strap adjustments in the patterns yet, so we generally recommend you knit the straps 5-10 cm shorter than you normally would, so they can ease.
Can I knit in other types of yarn than cashmere?

Of course you can! 

We recommend cashmere because while researching many different yarn types, cashmere was the yarn that was the softest against the skin for the longest duration of time. Also cashmere on small needles tends to give a more tight knitted, elegant look, that we feel are perfect for our designs.But as long as you match the knitting tension to whatever yarn you are using, you can use whatever yarn you want. 
Do you have video tutorials for your patterns?

We share tutorials in our Instagram highlights and we have started a YouTube channel, where going forward will share a lot more tutorials and tips to your patterns. If you have any suggestions or wishes for methods or specific patterns we should do a tutorial for, please let us now atsupport@nakedknit.com